There's a Poverty-Stricken Side of Coachella Nobody's Talking About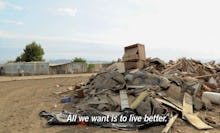 The west side of the Coachella Valley is home to the annual eponymous arts and music festival spanning two weekends this April (the 11th-13th and the 18th-20th). With tickets beginning at $375 for general admission (and $799 for VIP), the event has come to symbolize something of a playground for the privileged.
Located in the desert of Indio, Calif., festival attendees worried about roughing it can even pony up $2,900 for a four-person, air-conditioned and fully-loaded tent. With these types of amenities, it's no wonder Coachella is also the most profitable music festival in the United States, earning $47.3 million in 2013. Over the past 15 years of its existence, it's raked in hundreds of millions of dollars for the region.
Image Credit: Getty
Well, for some of the region, at least.
Even as celebrities descend on the glittering campground for a weekend's worth of bizarre outfits and glittering after-parties, the majority of the region is suffering from crippling poverty unadressed by the majority of national media outlets.
Turning to the east side of the Valley, away from the opulence of the festival in the west, is a land populated by farm workers. In this part of East Coachella, far removed from the gaze of Coachella uber-fan Vanessa Hudgens, people cannot drink the water, which is tainted with arsenic, and there are more trailer homes than single-family homes. Many of these homes do not have electricity, water or sewage systems, as reported by Annie Rosie Ramos for Fusion.
"[I]n May and June... [are] an amazing amount of individuals here working really hard in the hot sun who have very little options for where to live," Coachella Valley Housing Coalition representative Nadia Villagran explains in the video. "So they sleep under trees and in their cars, and they share public bathing facilities just to get by while they're working here."
The Valley, described as a "toxic dumping ground," has been on environmental and human rights watch lists for years. The organization California Watch has gone so far as to call it a "mass humanitarian crisis" in the making.
The collective wealth of the festival contrasted with the poverty of the eastern valley is alarming. Concertgoers, hemmed in by palm trees, are able to remain blissfully ignorant of the poverty that surrounds them; meanwhile, 15 miles away, steaming trailer parks swarm with migrant workers and American Indian communities lacking in health insurance and suffering from high rates of cancer, alcohol abuse, obesity and respiratory diseases such as asthma and obstructive sleep apnea.
Ironically, while many of these inhabitants farm the land in the region, others are part of the area's booming $200 million-a-year tourism industry, according to a 2013 report spearheaded by the UC Davis Center for Regional Change.