The Inspiring Reason Women Everywhere Are Being Urged to Touch Themselves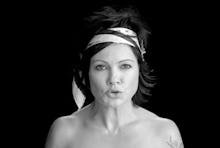 Famous Australian rock band Divinyls' lead singer Chrissy Amphlett may have lost her battle to cancer last year at 53, but the iconic Aussie's fight for breast cancer awareness lives on in the form of a powerful tribute video making the rounds this week. One of Amphlett's last wishes was that her early '90s ballad "I Touch Myself" become an anthem for self-examination and cancer awareness, which is exactly what 10 Australian singers have done in a beautiful black and white video set to the famous tune. 
For decades, this particular song has "celebrate[d] female sexuality like no other," notes the Cancer Council NSW charity in a press release for the #ITouchMyself project. "Like Chrissy, it is bold, brave, and brassy. It rocked our world. And when Chrissy developed breast cancer, it was a song she wanted to become an anthem for spreading awareness about the importance of touching ourselves for early detection of the disease."
The project launched over the weekend, on the one-year anniversary of Amphlett's death.
The clever campaign is poignant, with more than a touch of cheekiness — the original song is a not-so-subtle endorsement of masturbation, after all. Lending their all-star voices to the cause is breast cancer survivor Olivia Newton-John, ARIA female artist of the year winners Sarah Blasko and Megan Washington, Baby Animals singer Suze DeMarchi and ARIA Hall of Fame inductee Little Pattie, who is Amphlett's cousin. 
The campaign wants women to know that vigilant self-examination is an important in catching breast cancer early on. In Amphlett's case, a mammogram and ultrasound had failed to initially detect Amphlett's cancer, although at the time the rock legend had already been diagnosed with Multiple Sclerosis. A self-examination made her return to the doctor and insist on a biopsy, which in 2010 revealed the cancer.
The campaign has also started "I Touch Myselfie," an social media campaign encouraging women to post pictures and videos of them touching their breasts for self-examination. 
In an emotional story for the Sunday Telegraph this week, Amphlett's widower Charley Drayton noted Amphlett was always urging women to become more open and in tune with their bodies, in all capacities.
"She would have wanted us to be more in touch with ourselves and to listen to what's going on inside physically," he said. "And to be more in charge of our destiny and not wait for doctors or advisers to be in charge of us."
An important message in any context, at the very least the Aussie campaign has gotten a new generation talking about what it means to really touch yourself. What's not to love?