11 Beautiful Photos of Passover Being Celebrated Around the World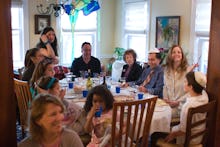 On Monday night, Jews around the world came together to celebrate Pesach, or Passover, the eight-day celebration commemorating the biblical Exodus from Egypt. For many, the Passover Seder is a time for families, friends and communities to come together. Even non-Jews seem to love matzah, the unleavened "bread of affliction" that keeps regular bread and a host of other foods off Jewish plates for a week. (Not that you can't get really creative with matzah, but I promise the plain stuff is way less fun when it's not optional. Then again, we're all mystified that you guys love Manischewitz wine too, so, who can say?)
Take a look at these photographs of Passover from all around the world, each of which casts the story of Moses and the Israelites in different, sometimes poignant, still awesome (in the biblical sense) ways:
1. Overland Park, Kan.
Sunday's deadly antisemitic attacks on the Overland Park Jewish community and its friends has made Jews in the Kansas City area more determined than ever to celebrate in a spirit of welcoming and peace.
2. Djerba, Tunisia
Tunisian Jews make an annual pilgrimage to the El Ghriba Synagogue, which is 500 kilometers south of Tunis.
3. Manischewitz factory, Newark, N.J.
This mashgiach, a Jew who supervises the kashrut status of a kosher establishment, ensures that every piece of matzah at the Manischewitz Co. factory passes muster. Manischewitz, also famous for its wine, is the nation's largest manufacturer of processed kosher food products.
4. Miami Beach, Fla.
The seder plate includes a number of symbolic items that help participants retell the story of their emancipation from slavery in Egypt, including the karpas greens, which represent the bounty of spring.
5. Mumbai, India
This photo was taken months after the deadly attack on the Mumbai Chabad-Lubavitch community in 2009, in which nine people were killed, including a young rabbi and his wife. Today, the Jewish center remains open.
6. Kathmandu, Nepal
Young Israelis often take a year to travel the world after completing their military service, and many end up in Nepal. This Seder in Kathmandu last year may have been the largest in the world, according to organizers.
7. Mevasseret Zion, Israel
Two hundred new immigrants from Ethiopia celebrated their first Passover in Israel at the Jewish Agency Absorption Center near Jerusalem in 2010.
8. Lod, Israel
Many Jews take Passover as a time to organize food drives for the hungry of all persuasions. Here IDF soldiers assist with a Yad B'Yad (Hand in Hand) program in Lod, a mixed Jewish-Arab city southeast of Tel Aviv, 2012.
9. Washington, D.C.
President Obama celebrated his first White House Seder in 2009. There's been no word on whether Sasha, Malia or someone else was the lucky finder of the afikomen.
10. Ashdod, Israel
Orthodox men prepare unleavened matzah under strict guidelines. In the days preceding Passover, many Jews scour their kitchens and clean out every food item that's not kosher for Passover. Some even burn them.
11. Nablus, West Bank
Samaritans aren't just a byword for generous people; they're a living community that keeps up ancient traditions.