What You Need to Know About the Bomb Scare in Boston Tonight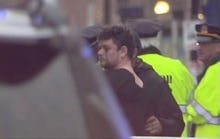 On the one-year anniversary of the Boston Marathon bombings, the Boston Police Department announced they've taken an unidentified man into custody and detonated two backpacks Tuesday night after the packs were found unattended on Boylston Street near the Boston Marathon finish line.
Authorities were immediately notified when a barefoot man who was wearing a long black veil and screaming "Boston Strong" was spotted dropping one of the bags off.
That man has been identified as Kayvon Edson. When Edson was stopped by police, he reportedly told them he had a rice cooker in his bag. That is when the Bomb Squad was called to the scene. A source tells CBS News that the rice cooker in the bag was full of confetti. The second bag was detonated about 40 minutes later, and reportedly contained photo equipment.
Once the bag was spotted, the BPD shutdown the area and closed down nearby public transit. 
Within roughly an hour, the Boston Police had arrested the suspect and took him into custody. 
The incident was a reminder of the carnage that happened a year ago. On April 15, 2013, two pressure cooker bombs exploded during the Boston Marathon at 2:49 p.m., killing 3 people and injuring an estimated 264 others. The incident lead to a week-long, city-wide manhunt for the two bombers, Dzhokhar and Tamerlan Tsarnaev, the former of which was later killed in a police shootout. Dzhokhar surrendered shortly after and is currently awaiting trial.