These Young Black Students Want You to Know That Genius Comes in All Colors and Shades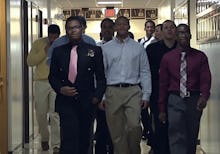 African-American teenager Kwasi Enin first defied the odds and got into all eight Ivy League schools. Then Oakland teenager Akintunde Ahmad, with his 5.0 GPA and 2,100 SAT score, showed that genius comes in all shades by revealing he's on his way to either Yale or Brown, but he's just a regular "Oakland street dude." Now several young black and Hispanic teens from Central High School in Champaign, Ill., have created what amounts to an effective achievement anthem for minority males: "Suit & Tie in the 217."
The group of student scholars, athletes, Eagle Scouts and future college students reveal they have the aspirations and work ethic like the rest of America's youth — and they do it in style. As the students dance throughout the video, signs that flash across the screen of the "Suit & Tie" remix deliver messages like "We are scholars," "We are employees and volunteers" and "We are not thugs" to continue to counter the negative stereotypes that live in the national imagination about minority males. 
It's an important point.
The dancing scholars belie another point, that in 2014, the nation is still pinioned beneath a narrative that often assumes minority males are unruly, unmotivated or untalented. It is a narrative that has cost minority males entirely too much and often deny them the services they need because they are seen as deserving of their plight.
This video is powerful because the students remind us that most minority students don't sell drugs or are attached to the penal system, but engage in rather ordinary activities like Boy Scouting, athletics, volunteering and wearing suit and ties.
"The negative stories told daily in the media and in our culture about our young African-American men tend to ignore their successes and don't tell the full story about how young black men are becoming leaders within our community schools," Central High counselor Tiffany Gholson, who helped the students produce the project, told NewsOne. 
The narrative is changing, and young minority males are driving that change with hard work in their suit and ties.