Watch What Pharrell Did When He Saw the World Dancing to "Happy"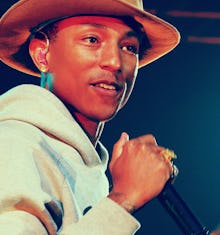 Pharrell's "Happy" has taken on a life of its own in a way that few if any other songs have. It started out on the soundtrack to a kids' movie and gradually grew into a soundtrack to protest movements in the Ukraine and Tunisia, before sparking a worldwide happiness movement. It's a simple and positive song that, surprisingly, became the centerpiece of an all-encompassing global moment.
Nobody is more surprised than UN cultural ambassador Pharrell.
He may have written the song, but he's humble enough to see that the world created what "Happy" is today. A couple nights ago on Oprah, he began to cry when he realized just how important his song had become.
"It's overwhelming because I love what I do," Pharrell said through his tears. "I just appreciate the fact that people have believed in me for so long that I could make it to this point to feel that." He co-wrote "Blurred Lines" with Robin Thicke and collaborated with Daft Punk on "Get Lucky," but he wrote "Happy" with the world.
He said as much in a recent interview with Noisey: "It's been amazing, because I know that it's not my doing. Yes, I'm the author of the song, but the people are the author of all the success. When you say the words 'big,' 'huge,' and 'successful,' what you're really referring to is how the public reacted to something. ... I'm just really happy that the universe has conspired to give us this kind of moment and I intend to continue to be loyal to it."
Of course, Pharrell isn't the first to cry on Oprah. There are two reasons why he would, though: First, Oprah is masterful at making people cry ("You know, I was just thinking about your grandmother," she said, kicking him while he's down). But the real reason is that "Happy" has grown into one of the most singular pop events of a lifetime. Pharrell is humble enough to see that.
So was the world.