The NYPD Just Disbanded One of Its Most Controversial Units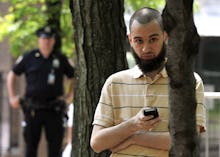 The news: After over a decade of controversy, the NYPD announced Tuesday that it has finally closed down the Demographics Unit, the infamous division assigned to surveil Muslim communities in New York and its surrounding areas.
"Our administration has promised the people of New York a police force that keeps our city safe, but that is also respectful and fair," New York City Mayor Bill de Blasio said in a statement. "This reform is a critical step forward in easing tensions between the police and the communities they serve, so that our cops and our citizens can help one another go after the real bad guys."
The NYPD has taken a more muted approach, explaining that the unit has become no longer necessary. "[I]t has been determined that much of the same information previously gathered by the Zone Assessment Unit may be obtained through direct outreach by the NYPD to the communities concerned," the department said in a statement.
The background: The program was birthed in the post-9/11 era with the help of the CIA. Since 2003, plainclothes NYPD detectives had been assigned to Muslim neighbors to gather intel on where people prayed, what they discussed and even where they ate. The information was then used to create dossiers on community leaders and areas of interest.
Image Credit: AP
The Associated Press uncovered several of these documents in a 2011 investigation, revealing that the NYPD had employed informants, or "mosque crawlers," to eavesdrop on sermons. Undercover officers, nicknamed "rakers," were encouraged to rake the coals and find hot spots at hundreds of mosques and Muslim student associations — even outside the state.
The AP reported that police "systematically spied on Muslim neighborhoods, listened in on sermons, infiltrated colleges and photographed law-abiding residents as part of a broad effort to watch communities where terror cells were suspected to be operating. Individuals and groups were monitored even when there was no evidence they were linked to terrorism or crime."
But perhaps the most galling thing about the Demographics Unit was its uselessness and inefficiency. In its decade of operation, the unit did not generate a single lead.
After the AP investigation blew the controversy wide open, 34 members of the Congress called for an investigation. But even as late as this February, a federal judge threw out a suit by eight Muslim residents of New Jersey, arguing that "the police could not have monitored New Jersey for Muslim terrorist activities without monitoring the Muslim community itself."
A changes of the times: Muslim advocacy groups and civil liberties organizations have applauded de Blasio's move, which signals a change from the days of Mayor Michael Bloomberg and Police Commissioner Ray Kelly. De Blasio and his new commissioner, William Bratton, have pledged to heal the rifts between the city's government and its Muslim communities. 
"I will get it right again in New York City," said Bratton, who is returning to his post after serving as police commissioner in the '90s.
Still, others have been more skeptical that those who have been spied on for a decade can simply bury the hatchet and move on.
"The Demographics Unit created psychological warfare in our community," said Linda Sarsour, of the Arab American Association of New York. "Those documents, they showed where we live. That's the cafe where I eat. That's where I pray. That's where I buy my groceries. They were able to see their entire lives on those maps. And it completely messed with the psyche of the community."
It remains to be seen what steps de Blasio's administration will take to protect New York City residents and their liberties. But for now, this is a step in the right direction.