Joe Biden Just Posted His First Instagram Photo, and It's Everything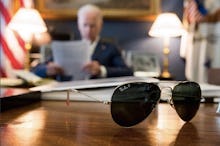 The nation's second-ranking executive Ol' "Diamond Joe" Biden (or his office) has posted his very first Instagram photo, and it's clear he's the vice president of cool:
As The Wire's Ben Cosman says, "it's basically a Bidenism in picture form," noting our vice president's penchant for aviators:
Image Credit: AP
Image Credit: AP
But previously we've been limited to seeing the vice president show off his cool uncle look via third parties. Now the public has the delight of seeing the veep unfiltered, as he really is, as defined by a few mid-level staffers trained in public relations who have never worked for American Airlines (NSFW). Or maybe they have. Biden doesn't judge.
What will Biden bless us with next? A play by play through his latest score of some grade A copper wire? A photo tour of his latest unplanned vacation to Mexico? Selfies with senators' mothers? Or maybe he could photo-log his way across the nation with some bikers, the wind in his lustrous hair, a Coors Light in his left hand and the middle finger on his right pointed at a Nevada state trooper.
Photo number two was the veep proudly saluting a pair of Marines as he exited a helicopter in Pennsylvania, aviators and all:
The Internet is your oyster, Mr. Vice President. And for all our sakes, I hope you shuck it for all it's worth.