The Harshest Anti-Abortion Bill in the Country Was Just Overturned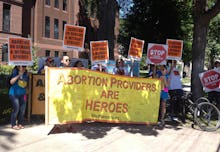 A year after Republican-led North Dakota signed the most repressive abortion legislation, a federal judge overturned the six-week abortion ban in what amounts to a huge win for reproductive rights advocates. 
U.S. District Judge Daniel Hovland found the heartbeat law "invalid and unconstitutional" on Wednesday and said that it "cannot withstand a constitutional challenge."
North Dakota, considered one of the worst states for women's reproductive rights, had passed the law last year banning women from getting an abortion after a fetal heartbeat was detected. That made it nearly impossible for women to get an abortion because a fetal heartbeat is often present even before women realize they are pregnant. 
North Dakota, along with Arkansas, is among several conservative states that passed new abortion restrictions in recent years, but abortion rights supporters called North Dakota's fetal heartbeat law the most restrictive in the country.
In the landmark Roe v. Wade decision of 1973, the U.S. Supreme Court ruled that abortion must be legal until a foetus is viable, typically 22-24 weeks. When North Dakota Republican Gov. Jack Dalrymple signed the strict anti-abortion law last year, many people felt he was trying to stretch the boundaries of the court's opinion. Apparently, Judge Hovland agreed. He wrote in his ruling:
The United States Supreme Court has spoken and has unequivocally said no state may deprive a woman of the choice to terminate her pregnancy at a point prior to viability.
The decision is a huge step for advocates working to safeguard women's interests in North Dakota, an often hostile environment for pro-choice reproductive rights. Anti-abortion supporters had been so successful in their campaign to limit abortion options that some women had started assuming that abortion was actually illegal.
Indeed, the entire state of North Dakota has only one clinic, the Red River Clinic in Fargo. It was this feisty holdout that worked with the Center for Reproductive Rights to overturn the law last July.
"The court was correct to call this law exactly what it is: a blatant violation of the constitutional guarantees afforded to all women," Center for Reproductive Rights president Nancy Northup said in a statement after the ruling.