Country, Hip-Hop, or Jazz? An Interactive Map Reveals Your State's Favorite Music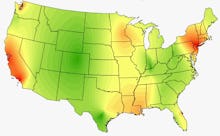 A new map using government statistics is in, and it turns out hip-hop is the genre Americans agree on most.
Image Credit: Movoto Blog
Movoto, a real estate blog, posted the map of the nation's "musical taste scores," grabbing data from the National Endowment for the Arts on state-level music preferences, along with numbers from the U.S. Bureau of Labor Statistics and the U.S. Bureau of Economic Analysis by way of the Martin Institute. 
This interactive map shows that while rock still dominates in diverse areas like L.A. and New York, hip-hop's wealth has spread from the Canadian border to the Gulf Coast. An employee of music giant The Echo Nest also put together some data on each state's favorite artist. Both lead to the same conclusion: Hip-hop is the closest thing we have to a real national music.
Combined, the two reveal some interesting trends in hip-hop's spread. Seattle's fondness for hometown hero Macklemore seems to have opened up new pathways for rap in the Northwest. Meanwhile in the Deep South, where rock, oldies, alternative and country are mostly played out, Southern rap's more recent cultural importance (Lil Wayne, Outkast, etc.) has cleared a path for Northern rappers like Jay-Z and Drake.
It's not a new concept, but the map is a strong reminder that this generation has accepted a once-marginalized form of music as the closest thing we have to a coherent mainstream. Even songs from other genres are importing rap as a way to boost chart performance. Little else unifies our Top 40: It's a mix of R&B, rap, rock and electro anthems. Hip-hop, then, might be the closest thing we have to a real national music. You never thought hip-hop would make it this far.