Instead of Opportunity, Five McDonald's Employees Found Modern Day Slavery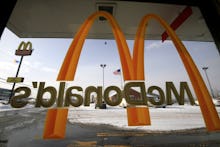 Indentured servitude is alive and well, but it's taken some odd and infuriating new twists since the 18th century — namely that McDonald's has used sky-high rents to entrap foreign workers in Canada.
Five workers from Belize, dreaming of a better life and of sending money back home to their families, went to Edmonton in September on a contract arranged by a third party. When they arrived, McDonald's told them it had arranged housing for six months, and that rent would be deducted from each paycheck. What the workers didn't know was that the mandatory apartments were high-rise penthouses in downtown Edmonton, an hour and a half by public transit from their work site.
Not only that, if the workers tried to move to closer and find more affordable housing, McDonald's would continue to deduct rent from their paychecks. Because McDonald's can break promises, but it sure can't be expected to break a lease.
It gets worse. An investigation by CBC Go Public found that McDonald's, a corporation that made $27.5 billion in sales in 2012, was overcharging the workers for their already onerous rent by $600. Every utility was registered under and paid by McDonald's as well. After all the cuts McDonald's took, the Belizeans were left with about $350 for every biweekly pay period.
"We felt that we didn't have a chance to even voice our opinion to them because they had brought us here, so they could ship us back whenever they wanted to," said Jaime Montero, who was fired after two months. "It was like modern-day slavery."
Actyl, the agency that brought the Belizeans to Canada, claims it doesn't charge foreign workers for processing costs like visas and medical fees. The workers were told that McDonald's would reimburse them for those costs. The CBC Go Public report said receipts show that Actyl not only handled the paperwork, it also paid for other expenses, like bus fare to and from airports.
Not so shockingly, McDonald's never reimbursed the workers, saying that was never part of their contract. Other things that were never on the table: giving the Beliezeans overtime pay, which was one of the primary reasons they signed up to come.
Jason Kenney, Canada's Minister of Employment and Social Development, told CBC Go Public his department is looking into the case.
"It doesn't matter whether they are a Canadian citizen, permanent resident or temporary resident — they have full mobility rights," Kenney said. "And if any employer is somehow using ways to coerce people to stay in a particular place, that would be illegal."
Cold comfort for Montero, who was forced to live in homeless shelters after being fired, and whom McDonald's says is a disgruntled and untrustworthy source.
"I was making more money in Belize [working construction] than I made here in McDonald's in Canada," he said. "Instead of making money here … my family have had to send money."