Vintage Video of Iraq in the 1950s Shows How Beautiful the Country Could Have Been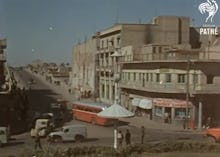 "At the center of our world lies the Middle East, and at its very heart, the ancient land that is Iraq," begins the narration of Ageless Iraq, one of the 85,000 historic videos uploaded to YouTube by newsreel maker British Pathé.
Directed by Graham Wallace, the vintage video showcases the now war-torn country in the 1950s as a flourishing land that was once "a main junction linking the East and the West."
The video highlights Iraq's gorgeous history and culture, which have now been swallowed up by the aftermath of the Iraq war, renewed sectarian violence and attacks from al-Qaeda and its affiliates.
From the country's new police force and the port of Basra, formerly called the "crossroads of the world's trade," to the country's flourishing agriculture rich with spices and dates, the film is also a reminder of a not-so-remote past when Iraq was once one of the most vibrant economies of the Middle East.
Iraq was known by the Greeks in ancient times as Mesopotamia, "the land between two rivers," the Tigris and the Euphrates. Widely considered the "cradle of civilization" in the West, Mesopotamia is home to writing, agriculture, animal herding and domestication of animals. It is touted as the world's first city.
While Iraq continues to be in the world's spotlight, this video gives us a glimpse of Iraq's rich history and lifestyle before war, violence and bombings, when the streets were, according to the reel, "alive with the bustle of a young people who are taking back from the West the means to a brighter future."