Haunting Texts Were Reportedly Sent From the Sinking Korean Ferry — Here's the Real Story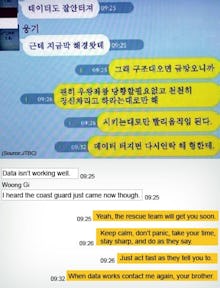 A South Korean ferry which capsized Wednesday morning off the island of Byngpoon has resulted in 25 confirmed deaths, and some 276 people may remain alive and trapped within the now-completely submerged five-story ship. Hampered by poor weather, rescuers are still trying to find their way into the vessel to determine whether anyone is still alive and if so, how they can be rescued.
And in the middle of this tragedy, hoaxers have struck again. Korean news outlet The Kyunghyang Shinmun released this image of what it claimed to be a text-message exchange between a student trapped on the ferry and his mother (transcription below):
9:27 a.m. - Mom, I'm sending this message now in case I don't get to say it later: I love you.9:34 a.m. - Why..? I was wondering why you weren't checking your KakaoTalk (a Korean messaging app similar to WhatsApp).9:36 a.m. - Me too, son.. I love you..
Korean news agencies including Yonhap News also provided a number of other seemingly heartbreaking messages from passengers on the ferry, translated by CBC News:
Only problem? Police have confirmed that there were no records of phone calls, SMS, or messenger-app communications from the vessel after mid-day on Wednesday. It's all BS.
Sure, the 24-hour news cycle has been around for a while, but it's still kind of astonishing these hoaxes have been passed around in the media and on Twitter like they're the hard truth — especially because they seem engineered to be deliberate tear-jerkers.
The ongoing events in South Korea are an unimaginable tragedy for those involved and their loved ones. As such, the authorities are taking the hoax very seriously. A National Police officer confirmed to Koreal Real Time that a suspect is under investigation for faking the messages, but would not comment further.