The Man Most Likely to Win Algeria's Presidential Race Has Been in Power Since 1999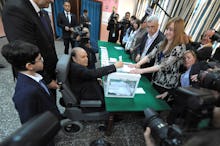 After an honest, ideas-driven campaign in which the people were given ample choice and opportunity to choose their next leader, 77-year-old Algerian president and recovering stroke patient Abdelaziz Bouteflika looks poised to take office for the fourth time.
Actually, replace that with "allegations of voter fraud." Two years ago, Bouteflika said, "[M]y generation has served its time." But it looks like he's not quite ready to give up the reins, despite his chronic health issues and total absence from the public arena.
Youth demonstrations in which 70 people have been wounded, coupled with voting booth boycotts, meant that only 51.7% of Algeria's 23 million registered voters actually cast ballots on Thursday. Ali Benflis, the leading opposition candidate, condemned the election on the grounds of massive irregularities. He said he would use all peaceful means to resist the inevitable result. The winner, who will serve a five-year term, should be announced Friday.
Image Credit: AP.
Bouteflika came to power after a traumatic decade-long civil war in which an estimated 200,000 people were killed. Older voters associate him with bringing peace and order, and frankly, there's no need to try that with someone new.
"The people around [Bouteflika] have already stolen a lot and they have nearly filled their sack, and they won't need to steal very much in the next term," said middle-aged voter Sonia Izem. "If we bring in someone new, they will have to start stealing all over again."
Whether picking "the devil you know (and who has already gotten what he wants)" is a good strategy remains to be seen, but nothing better suggests what Algerian voters might get than this photo of Bouteflika being wheeled to the polls — his first public appearance since May 2012.
Why wouldn't young Algerians, 46.2% of whom are younger than 24, go for that?