370 Million People Face the Threat of Extinction — And Nobody Is Talking About It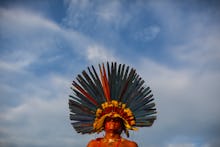 "This land belonged to my father," said Omot Ochan, a member of the Anuak tribe in Gambella, the poorest province in one of the world's poorest nations: Ethiopia.
"All 'round here is ours. For two days' walk. When my father died, he said don't leave the land. We made a promise. We can't give it to the foreigners."
Ochan's words echo the deadly battle faced by indigenous people around the world fighting to keep their homes out of the hands of extractive industries and land grabbers.
Image Credit: Wikimedia Commons. Members of the Anuak tribe. 
And as the race for the world's natural resources heats up, environmental and land rights defenders are paying the ultimate price for their brave stance.
At least 908 people were killed in 35 countries from 2002 to 2013 while defending industrial mining, logging and land rights, according to a report by Global Witness, a London-based nongovernmental organization.
Image Credit: AP. Environmental activist protesting against drilling in the Yasuni rainforest preserve in the Amazon region.
It's a death rate that has been rising in the past four years to an average of two activists a week. And the lack of attention paid to the issue is costly: Only 10 people have been convicted in connection with the killings over the past 12 years.
Woes over land rights' disenfranchise indigenous communities in particular, according to the report. With a claim to land unrecognized or contested by the law, indigenous communities are left vulnerable to exploitation by "powerful economic interests who brand them as 'anti-development.'"
And worse — since many of these communities are extremely remote, they don't receive warning about being uprooted until "the bulldozers arrive in their farms and forests."
It's an environmental issue that taps into the often overlooked question of indigenous rights. The world's indigenous population — 370 million people living in approximately 90 countries in 2012 — faces a long list of hardships including systematic discrimination, exclusion from political and economic power and threats of being displaced.
While indigenous people around the world are facing hardships, the threats targetting indigenous groups in Ethiopia and Brazil provide a snapshot of how serious this issue really is.
Brazil is the deadliest country for land defenders.
"We don't succeed in living with chickens and cows. We don't want to live in cities," Pirahá, a member of the Awá tribe, told Vanity Fair last year.
With 350 members left of their tribe, the Awá people are the world's "most threatened tribe" according to campaign group Survivor International. And unlike neighboring tribes, Pirahá said that his community is not ready to leave their land:
"We don't want their money and their motorcycles. We don't want anything from the whites but to live as we live and be who we are. We just want to be Awá."
A community living deep in the eastern Amazonian rainforest, they have been under threat by illegal cattle ranchers and loggers. The Brazilian government announced on Friday that they will remove the invaders threatening Awá land. 
Image Credit: AP. Members of the Awá tribe.
It is a rare victory for indigenous rights in Brazil, where the country's 800,000 indigenous citizens make up 0.4% of the country's massive population.
Due to the country's land ownership patterns and concentration on agribusiness exports, indigenous groups in Brazil often come into conflict with powerful, well-connected landowners. It's the world's deadliest country for these communities and environmental defenders, with 448 deaths between 2002 and 2013. Since information in remote areas is hard to find and verify, these numbers may be even higher.
The Amazon is often the main frontier of the struggle between indigenous people and powerful agricultural interests. Not only is there a weak state presence in these remote areas to monitor and safeguard these communities, the legal rights for lands that they have nurtured and thrived on for generations are often deemed "unclear or non-existent."
Image Credit: Wikimedia Commons. Aerial view of the Amazon River. 
As pressure on natural resources increases due to soaring demand across the globe, indigenous people find themselves on the front line of a fierce and deadly battle for resources and often pay a dear price for defending the land of their ancestors.
"The main model of land usage values commodity production and large land holdings, and devalues nature, devalues forest," said Clifford Welch, professor of the Contemporary History of Brazil at the University of California, in the report. "It devalues people who already live there, and tends to push them out of the way."
According to a report from the Missionary Indigenous Council, nearly 452 indigenous people were murdered in Brazil between 2002 and 2010, up from the 167 killed during the previous eight years.
These stark figures not only highlight the lack of government attention and failure to prosecute those responsible for the crimes but also paint an alarming and somber picture of the value of human life in the race for the the world's depleting natural resources.
The government of Ethiopia orders "land grabs."
For centuries, the Mursi, a semi-nomadic ethnic group, have lived in South Omo in Ethiopia. 
But the country's government now wants to force the group out of their homes, in order to turn the land inhabited by the Mursi and other ethnic groups, into a giant sugar plantation.
According to the Christian Science Monitor, the government attempts to lure away members of indigenous groups with promises of jobs, and public services. In other cases, government officials have been accused of using "killings, beatings, and rape" in order to to pave the way for the large project.
Image Credit: AP. A child from the Mursi ethnic group.
It's not an isolated story. In Ethiopia, "land grabs" by governments force the country's growing number of ethnic and tribal groups out of their ancient lands to make room for leasing deals and foreign firms. 
According to the Oakland Institute, a California-based advocacy group, the Ethopian government attracts investors by making what it claims are "unused," arguing that these investments allow for foreign currency to enter the Ethiopian economy and contribute to long-term food security. The institute has also accused the accused the state of using beatings, rapes and killings as methods of forcing residents off of their land. 
Rather than investigate these claims, the Ethiopian prime minister's spokesman, Getachew Reda, argued that these human rights groups' agendas "drag Ethiopia back to the Stone Age."
Ethiopia, one of the poorest nations in the world, receives upward of $3 billion in foreign aid, and the need of economic development and progress is essential. However, without due attention, conversation and consultation with these indigenous tribes and the threats they face, the cost of progress is too great as ordinary people continue to be forced off of their land, baffled and coerced at the risk of losing their livelihoods, or worse, their own lives.
Image Credit: AP. Members of the Karo tribe. 
The cost price of silence is steep.
Two main drivers of repeated violence are a lack of attention to the issue and widespread impunity for perpetrators, according to the report. As world leaders and governments continue to move forward in terms of progress and development, they need to start paying attention to the stark reality of the indigenous people. As a global community, there needs to be a more coordinated international effort to stand up, monitor and safeguard these communities and the environment they strive to protect with their lives.
Without due attention given to indigenous people and the alarming a death rate that has been rising in the past decade, the cost of progress and development will, sadly, continue to outweigh the cost of human life. 
As Global Witness' Oliver Courtney best put it: "Unless [governments] can act decisively to protect the environment and those most reliant on it, we will once again be left counting the rising cost of their inaction in human lives.