Saudi Arabia Is Building the World's Tallest Tower — It's Twice the Size of Empire State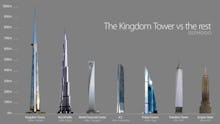 The news: Burj Khalifa, meet your dethroner.
Saudi Arabia is expected to break ground next week on Kingdom Tower, a 200-floor behemoth in the coastal city of Jeddah. The tower will stand 3,280 feet high, making it 568 feet taller than Dubai's Burj Khalifa, and will become the new titleholder for the tallest building in the world — for now.
The skyscraper will not only be staggeringly tall, but also expensive: It will need around 5.7 million square feet of concrete and 80,000 tons of steel. Overall, Kingdom Tower is expected to cost around $1.23 billion to complete over the next five years.
Image Credit: Adrian Smith + Gordon Gill Architecture
In order to facilitate moving about the 500,000-square meter building, there will be 59 elevators, including five double deckers. For visitors going up to the observation deck, there are super-speed elevators that travel at 10 meters per second — which means it will only take 1 minute, 40 seconds to reach the top.
Image Credit: Adrian Smith + Gordon Gill Architecture
But that's not all. Kingdom Tower is one part of a massive development by the Red Sea. The plan is to build a new town called Kingdom City, which will consist of "over 5.3 million square meters of urban development including housing, commercial property, hotels, offices, shops, educational and commercial centres." Authorities hope that it will jump-start the economy in the region and create new jobs.
Image Credit: Adrian Smith + Gordon Gill Architecture
The building is designed by the Chicago-based firm Adrian Smith + Gordon Gill Architecture; Smith also designed the Burj Khalifa. Kingdom Tower's height and striking design are meant to "send a message of strength" about Saudi Arabia's economic and political stability, said Prince Alwaleed bin Talal.
Image Credit: Adrian Smith + Gordon Gill Architecture
How does it compare to the rest of the world? Kingdom Tower dwarfs all other buildings by far. And as you can see, the U.S. — even with the new One World Trade Center — is far behind.
Image Credit: Gizmodo
That's especially interesting given how the U.S. essentially invented the skyscraper race. From 1930 to 1931, New York was home to the three tallest buildings in the world in a row: the Bank of Manhattan, the Chrysler Building and the Empire State Building. But since then, countries in Asia and the Middle East have been showing off their rising economies, while America has been watching from the sidelines.
It's also important to keep in mind that One World Trade Center is now the tallest building in the U.S., and given its symbolic significance, it's unlikely that a taller building will be built in America any time soon.
Is there an end to the race? At some point, one building will hit the proverbial glass ceiling: There are structural limits to how far a building can physically go, and you have to consider human comfort as well. William Baker, a structural engineer who worked with Smith on the Burj Khalifa, believes that theoretically, one could construct a building twice as high. It's up to anyone with the money to take up the challenge.