Spain's "Robin Hood" Duped the Banks to Make a Big Point About Capitalism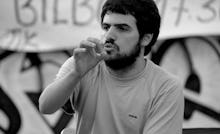 Spanish activist Enric Duran has swiped nearly half a million Euros in loans from banks in Spain, which has wracked Spain's economy leaving its citizens buckling under catastrophic unemployment. He has no intention of ever paying those loans back, which has earned him a reputation as "the Robin Hood of the banks."
That conceit has extended to the law, from which he has been on the run for the past 14 months. But Duran remains unabashed.
"The people in Spain who believe that banks don't work, they think that I don't owe anything," he told the Guardian in a Skype interview from an undisclosed location. "I don't see legitimacy in a judicial system based on authority, because I don't recognize its authority."
Image Credit: AP. A protest in Pamplona against austerity measures taken by the Spanish government. 
Before the economic crisis that has left Spain with unemployment rates worse than those seen during the Great Depression, Duran was a table tennis coach. "I saw that on one side, these [anti-capitalist] social movements were building alternatives but that they lacked resources and communication capacities," he said. "Meanwhile, our reliance on perpetual growth was creating a system that created money out of nothing."
In 2006 he began to apply for loans and credit, learning the system's ins and outs. By 2008 he had learned to funnel the loans through a fake TV production company, while he distributed more than $680,000 to other activists, media companies in need of equipment and anti-capitalist speaking tours. When he was finally arrested in 2009, he had swindled 39 banks and faced up to eight years in prison.
Duran did spend two months in prison but, after posting bail, decided to flee in February 2013 rather than stand trial. He's been on the run ever since, but Duran has no regrets. "We now have the capacity to generate resources, to advance and generate a situation that allows you to be independent," he said.
The Occupy Movement has tried similar tactics with its Strike Debt movement to buy and forgive medical debt, student loans and mortgages to uneven effect. It might be that scaling that kind of operation is more difficult than it looks.
One of Spain's other Robin Hood figures, longtime Marinaleda Mayor Juan Manuel Sánchez Gordillo, has created what some call a communist utopia in a town mostly populated by migrant workers. The town has no police, residents pitch in to build houses and keep neighborhoods tidy and the mayor himself leads crowds into supermarkets to commandeer food to feed the hungry.
Marinaleda only has about 2,700 residents, and only his membership in the regional parliament gives Sánchez Gordillo the immunity to stay out of jail. But even Robin Hood started small in Sherwood, and given how well austerity is going over in Spain, it's no wonder people like Duran and Sánchez Gordillo are cropping up.