Which Famous Musical Couple Has the Same Relationship as You?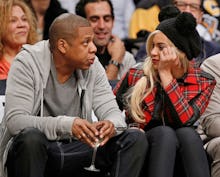 The music gods have heard our prayers. Earlier this week we found out that the American Royal Family (Beyoncé and Jay Z) will almost definitely be touring together this summer. This was such big news that at the first hint of the tour, the Internet became a feedback loop of gossip and the tour that was maybe possibly going to happen shot to the top of Facebook trends.
That's because this is the one concert that everyone in America essentially has to see.
Part of the reason is that we have a collective fascination with the Carters' relationship. The downside to the tour, then, is that everyone in America will now have to assess their own love life in the heavenly glow of the world's greatest couple. Musical couples have always had that sort of magnetic pull — they display a kind of intimacy that one rarely sees from another couple and it's almost impossible not to read your own love life into it.
Here, then, is a list of musical relationships that pretty much sum up most of the relationships you could have.
1. Jay Z and Beyoncé: Power couple
Image Credit: AP
Bow down to the couple of the century. You and your partner are definitely doing life right. Everyone loves you guys (and is honestly a bit jealous of the love you share).
Jay Z and Beyoncé are undoubtedly the reigning king and queen of the music world and pop culture in general, and you totally take on that position when it comes to your own life. Calling you a power couple is an understatement. That's because not only are you strong on your own, but together you can take over the world. And let's be real, your relationship is flawless.
2. Sky Ferreira and Zachary Cole Smith: Partners in crime
Image Credit: Instagram
Certain partners really enable a kind of mutual insanity. It's a dangerous and passionate relationship where the two people involved are partners in crime, and, if you are truly channeling Sky and DIIV figurehead Zachary, you are literally partners in crime. You have an intense bond forged in trendiness and hipster grime. You may be enabling each others' drug habit.
As with Sky and Zachary's relationship, yours is very intense and passionate. You constantly have the other on your mind, even though they're successful and independent.
3. Sonny and Cher: Classic PDA
Image Credit: AP
The operative term here is PDA — PDA of the 'looking into your partner's eyes and singing "I've got you, babe" in front of thousands of screaming fans.
Oh, how we've all been there.
Some may say you two are a bit corny, but your love is strong. While on the outside you seem a bit wonky, you are devoted to one another and extremely supportive. It's totally adorable. Although it didn't work out between these two, it still could for you. 
4. Kim Gordon and Thurston Moore: In a world of two
Image Credit: AP
We are still mourning the loss of the brilliant couple Kim Gordon and Thurston Moore. During the good times, the Sonic Youth darlings had a love strong enough to melt even the most cynical of alt rocker hearts. Even though Thurston ended up being a complete jerk (albeit a brilliant solo artist), we can still look back and remember them fondly as one of the most beloved, utterly ingenious music couples of all time.
Throughout their epic time together, Kim and Thurston were a pair of rock gods, sitting atop their badass throne surrounded by adoring followers crowd surfing below. If you're at all like them, you have your own world and your own language. Everyone envies your intimacy and creative chemistry. So just don't mess it up.
5. Johnny Cash and June Carter Cash: Unconditionally supportive
Image Credit: AP
Welcome to the world of Johnny Cash and June Carter Cash — the epitome of country royalty. You may come off as a little conservative, but you've had your fair share of hardships. However, you and your partner are honestly good for each other.
Johnny credited June for helping him get off drugs (even if it didn't fully work, the support was tangible). But if you can get through something like that — even if it was much less severe — you know your relationship is meant to last.
Through thick and thin, you stick together. You've seen some rough days, but your relationship is stronger than ever. There is little that's more important than true support.
6. Win Butler and Régine Chassagne: Very quirky
Image Credit: AP
You two are the masters of all things quirky (note: Win's eyeball pants). Like Win and Régine, the husband and wife co-founders of indie heavyweights Arcade Fire, you don't mind letting your freak flag fly high.
Your love gives way to creativity, and the more time you spend together, the more innovative your ideas become. You also don't mind a third-wheel. Or a fourth, fifth and sixth.
7. Ira Kaplan and Georgia Hubley: Practically married
Image Credit: Matador
Are you and your partner laidback and respect the bohemian lifestyle, but, you know, not in a try-hard fashion obsessed way? Then you probably relate to the couple Ira Kaplan and Georgia Hubley, who together formed the amazing indie rock band Yo La Tengo.
Although you like to keep your personal life quiet, it's clear that the two of you are going strong. That's probably because you guys are no frills and humble. Just keep doing you.
8. Kathleen Hanna and Adam Horovitz (Ad-Rock): Totally badass
Image Credit: The Punk Singer
Riot Grrrl and 'zine queen Kathleen (Bikini Kill) and the talented Ad-Rock (Beastie Boys) are one of the most badass couples ever. Ad-Rock and Kathleen are not only extremely innovative, but also they are forward thinking, politically active and astonishingly smart. They aren't afraid to let their voices be heard. And they support each other unconditionally — look no further than how Adam has been there for Kathleen throughout her battle with Lyme disease.
So, like Kathleen and Ad-Rock, you aren't afraid to make a statement and speak up for something you believe in while staying strong for one another. And because of that, you truly are the masters of cool.
9. Avril Lavigne and Chad Kroeger: Toolish
Image Credit: AP
I'm really sorry. I truly hope that no one relates to these two. Nothing is worse than the slimy merging of Avril Lavigne, the aging Hot Topic princess of suburban tween rebellion, and Chad Kroeger, the head of one of the most despised bands of all time, Nickelback.
If, unfortunately, you are like them, you are the couple every body side-eyes from across the room. Like Chavril, you make everyone just a bit uncomfortable. Sorry to say, but you are that couple.
But love is all that matters … right? I'm glad you're happy.