You've Heard About Powdered Alcohol Coming to the U.S. — But Here's What's Really Happening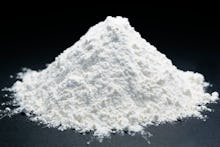 The news: Over the past couple of days, you might have seen some excitement about a new brand of powdered alcohol called Palcohol. After a beverage law blog reported that the Alcohol and Tobacco Tax and Trade Bureau (TTB) approved the product, the Internet went into a tizzy about what this could mean.
Of course, such a "revolutionary" product immediately raised a ton of questions: Would people start snorting it like cocaine? Would this make it easier for minors to sneak it into a drink? And how can you incorporate it into your everyday cooking?
It seems like all these questions may have been premature — you won't be able to sprinkle vodka powder over your eggs just yet. After the Palcohol story went viral, a representative from the TTB announced that the approval was made in error, and that Palcohol founder Mark Phillips has to surrender the labels back to the bureau.
"We have been in touch with the TTB and there seemed to be a discrepancy on our fill level, how much powder is in the bag. There was a mutual agreement for us to surrender the labels," the company announced on its website. "This doesn't mean that Palcohol isn't approved. It just means that these labels aren't approved. We will resubmit labels. We don't have an expected approval date as label approval can vary widely."
The background: This certainly isn't the weirdest form of alcohol out there. In the past few years, we've seen alcohol as whipped cream, yogurt and inhalable vapor. But powdered alcohol is a whole different ball game because of how transportable and adaptable it is. As an old version of the Palcohol website points out, "What's worse than going to a concert, sporting event, etc., and having to pay $10, $15, $20 for a mixed drink with tax and tip? Are you kidding me?! Take Palcohol into the venue and enjoy a mixed drink for a fraction of the cost."
Of course, that raises questions of whether this would enable underage drinking, or help people drink at a place where they are not allowed. It seems like TTB shared these concerns; according to Phillips, it took four years for the bureau to approve the labels.
The company has developed six alcohol flavors: vodka, rum and four cocktails (Cosmopolitan, Mojito, Lemon Drop and a margarita flavor called Powderita). According to the website, the packages weigh about an ounce and can easily fit in a pocket.
What will happen next? As the Associated Press points out, it's a bit strange that the TTB approval was made in error, especially given how stringent the process is. After four years of deliberation, something like a label discrepancy should have been ironed out by now. 
In all likeliness, the bureau may have been caught off guard by the public reaction and decided to take a second look at the product. Phillips sounds hopeful that he will receive approval again. In the meantime, if you really can't wait to get your hands on some powdered alcohol, you can try making it at home instead.