The 9 Best Earth Porn Photographers On Instagram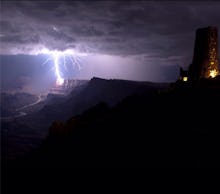 We live on a ridiculously gorgeous planet, but if you're glued to your laptop all day it can be easy to forget about that. Luckily, today is Earth Day and in honor of our mother planet try carving five minutes out of your busy schedule to appreciate the beauty of the world beyond the screen. 
If actually getting away from your desk life to see the world is an impossibility right now, at the very least there are some mighty beautiful Instagram accounts to take you visually to the ends of the world. Here are nine incredible Instagram accounts to follow for daily reminders of just how stunning this planet really is. Today might be the only Earth Day on the calendar, but if you bring these accounts into your social media rotation you may find yourself with a whole new Earth appreciation — even on the other 364 days of the year. 
1. U.S. Department of the Interior
Traveling the U.S. is as easy as a swipe on your smartphone. It may not be an individual account, but the Department of the Interior runs an Instagram account that brings the best of the country's natural landscapes, wildlife and monuments to your social media stream. All of a sudden that cross-country road trip seems a little more urgent.
Follow: @usinterior
2. Paul Nicklen, photographer
This National Geographic photographer focuses on documenting climate change as he shares photos from his journey across the globe. Nicklen photographs everything from striking underwater scenes to immense landscapes to incredible animals. His passion is climate change, so following his account will certainly bring some key environmental issues into focus. 
Follow: @paulnicklen
3. Jimmy Chin, photographer
Few photographers are able to capture the scenes that Jimmy Chin is famous for photographing. This filmmaker and National Geographic contributor climbs to new heights to test the limits of his body and his camera. You, on the other hand, can enjoy the incredible scenes from your couch. Leave the death–defying stunts to him.
Follow: @jimmy_chin
4. Tim Laman, photographer and biologist
Tim Laman's photographs may be published in National Geographic, but much of his best work can still be seen on his Instagram. Though gorgeous landscapes litter his feed, Laman's experience as a field biologist influences him to dedicate most of his posts to unique photographs of wild animals. 
Follow: @timlaman
5. Brenton Clarke Little, photographer
Little has turned his interest in photography into Instagram legend-status. His gorgeous images capture wild landscapes and personal adventures. 
Follow: @brenton_clarke
6. Stefano Unterthiner, zoologist and photographer
Viewing the world through the lens of a zoologist proves to be incredibly rewarding, at least according to Unterthiner's Instagram feed. This National Geographic wildlife photographer brings the best of the natural world with a very unique eye. 
Follow: @stefanounterthiner
7. Kirsten Alana, nomad and photographer
Through following this self–proclaimed "nomad and photographer," you can tag along on her wild adventures. From urban centers to vast countrysides, Alana's work is pretty awe inspiring.
Follow: @kirstenalana
8. Foster Huntington, photography
This adventurer gave up his NYC design job to travel the country and has been documenting his journey on Instagram ever since. Huntington shares updates on his travels through his rustic and enviable images.
Follow: @fosterhunting
9. #Wonderful_places
This aggregate account gathers the best photos from Instagram users across the globe. Any photo tagged #wonderful_places may be chosen for the account, meaning you could get your 15 seconds of Instafame. The project's high standards and eye for bright color create one of the most magnificent feeds around.
Follow: @wonderful_places