Netflix Is Raising Its Prices — Here's How Much You Can Expect to Pay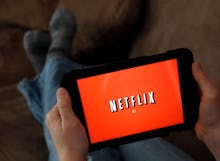 The news: You didn't think House of Cards was going to pay for itself, did you?
On Monday Netflix finally announced its long-dreaded plan for a price hike. Due to rising costs of acquisition, the ongoing war with Internet service providers (ISP) and expansion of its own slate of original programming, the video-streaming site is asking new customers to pony up more money, while old customers can keep paying the same — for now.
This is Netflix's first price increase since 2011, though it probably won't be its last. The details seem intentionally ambiguous, as the company is reportedly playing with a tiered service model as well. But whether you've been a loyal Netflix binger from the start, or you're thinking of finally seeing if Orange Is the New Black is really that good, this news should concern you.
How much you can expect to pay: If you are an existing customer, you will be grandfathered in so you can pay your current fee of $7.99 per month "for a generous time period." It will probably be one or two years before your monthly fee goes up as well.
And if you are thinking of signing up for Netflix, you had better do it quickly. Netflix says sometime between now and June, new customers will be subject to the price hike, which would be $1 or $2 more than the current price. That might not sound like much, but it will add up after a while.
Good news for Netflix: The company is still soaring higher than ever, with 4 million new subscribers just this month — which means it now has more than 34 million customers in the U.S., and 100 million worldwide. Though potential customers may be turned off by the price hike, they could also rush to sign up so they can enjoy the grandfathering phase for a couple of years.
Bad news for Netflix: But the ongoing influx of subscribers may not be enough to counteract the company's rising costs. Netflix is being increasingly pushed to expand its original offerings, especially as other companies such as Amazon and Yahoo jump into the fray. It's no longer just competing with traditional methods of media consumption: It has to worry about other Internet TV content as well.
That's not even factoring in how expensive it is for Netflix to acquire popular shows like Breaking Bad, or to strike deals with media giants like Disney, which is expected to cost the company $300 million a year. This year alone, Netflix is estimated to spend almost $3 billion licensing shows and movies so that its library can beat out Amazon Prime and iTunes. "If we want to continue to expand to do more great original content, more series, more movies, we have to eventually increase prices a little bit," said CEO Reed Hastings.
Still, perhaps the biggest threat to Netflix is not its competitors, but the ISPs. After net neutrality was killed in a federal court ruling, Netflix has been forced into a deal with Comcast to pay more to stream its content. But it's not going down quietly, and has been repeatedly accusing the ISP of arbitrary price hikes. Due to the court ruling, Comcast can charge as much as it wants to host a data-heavy site like Netflix, which will have no choice but to pass on the cost to consumers.
Netflix's price increase is not coming out the blue. Given the rising costs of operation, it would be unsustainable for the company to keep its current pricing. Netflix needs more customers and higher subscription fees — and this certainly won't be the last time we hear about it.