The Best Town for Young People to Live in Has Been Declared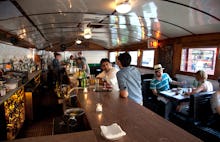 Recent college grads better break out the tight pants, ironic t-shirts and, sigh, monocles. According to Niche Ink's recent survey of some 500,000 college grads over the past four years, combined with U.S. census and other data, the best place for young people to live is New York, specifically northern Brooklyn neighborhood of Greenpoint.
The best: With a median income of $31,703, a low crime rate and 14% population between the age of 25 to 34, New York is a welcoming haven for young people. But it seems like only a very specific class of citizen could afford to live there easily. Just look at the median rent, which is $1,157 per month or $13,884 a year, or around half the after-tax income of someone making the median salary. Greenpoint in particular is also highly educated, with 70% of the population having some college or an associate degree under their belt. It's also young, with 32% in the 25 to 34 age range.
The bad: But for Brooklyn, it's pretty white (77.68% Caucasian — gentrification, much?). Plus the neighborhood has a shockingly high ($1,294 per month) median rent, 148% the national average and nearly 112% the NYC average. But it does have a median income of $62,470, around 18.39% above the comparable national rate ... so, there's that.
The rest: Other pricey cities high on the list included D.C. at No. 3, Chicago at No. 4 and San Francisco (with a median monthly rent of $1,344) at No. 5. It's pretty clear that affordability wasn't the key variable for the rankings (methodology here), which might be interpreted as biased towards the young high-income professionals who comprise just a subset of all Millennials. Forbes, for example, judged cities by their career prospects and found that Des Moines, Iowa, was No. 1 on their list of best cities for young professionals in 2011. Des Moines certainly isn't hip and it might not have the nightlife, cultural attractions, pro sports and shopping integrated into Niche Ink's methodology, but it does have a higher concentration of big businesses (one per every 568 residents) than any other city surveyed. Unemployment was just 5.8%. No. 2 was Raleigh, N.C., boasting 2% job growth and 42% B.A. possession among the population.
Other methodologies: Another list on Vocativ took the 50 largest cities in the country and ranked them according to a "Livability Index," with factors like "average salary, employment rates and the cost of rent and utilities measured against everyday factors like bike lanes for commuting, low-cost broadband and the availability of good, cheap takeout." They also threw in the cost of a pint of beer and an ounce of good weed. Their rankings also prioritize hipster-friendly factors, but seem a little more balanced towards people seeking low costs of living. The results looked quite different: Another hipster mecca, Portland, Ore., took the No. 1 slot. New York didn't come in until No. 23, ranking highly only in public transport, salary and number of laundromats (do your own laundry, okay?).
But in all rankings, a bunch of mid-range contenders emerge aside the obvious giants: Atlanta, with high salaries and good commercial services; Austin, Texas, with a young, single population and low median rent ($936, just 7.4% above the national average); Denver, with a relatively low cost of living, low rent and a strong tech sector; and Boston, which boasts good pay and public transport.