It's Almost Impossible to Choose the Most Racist Moment of Avril Lavigne's New Video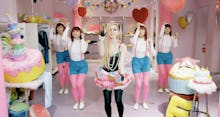 Every time the beat drops in Avril Lavigne's new music video for "Hello Kitty," she shouts "Kawaii!" like it's a battle cry. A really racist battle cry.
On Tuesday, Lavigne released the video (since pulled from YouTube) for her new song "Hello Kitty." The song is offensively bad. The video is offensively racist. In it, Lavigne — like Gwen Stefani before her — bastardizes Japanese Kawaii culture. And she, of course, has a troupe of unsmiling Japanese dancers behind her.
It's up for debate if the most racist moment of the whole thing is when she shouts "Mina saiko arigato," when she has her dancers (still unsmiling) pose for a photograph and then smile for the first and only time when they see it, or when she giddily claps as she orders sushi from a very severe looking Japanese chef. The whole thing seems to suggest that all Japanese women are as childish as 29-year-old Lavigne.
Watching this video is sort of like having someone blow loudly in your ear while they shine a really bright light in your eyes. It's hard to imagine that none of the people involved — the artistic oversight at Sony Music (a Japanese company), the director of the film, Lavigne's PR team and lead singer of Nickelback Chad Kroeger (Lavigne's husband, co-writer and erstwhile Hello Kitty enthusiast) — thought to stop her. Especially after Gwen Stefani made this same mistake when she unveiled her Harajuku Girls, right around when she went platinum with "Hollaback Girls." And only half a year after Miley Cyrus used her black dancers like props while she performed "Blurred Lines," the most downloaded song in UK history, at the VMAs. And just days after Sky Ferreira got slammed for an eerily similar video for "I Blame Myself."
That's because even Lavigne, who is one step away from squinting her way through this one, probably knows this is racist. Racism is good business.
The video debuted on YouTube, but when the Internet firestorm began almost immediately, it was pulled from the site. It didn't disappear, though. You can find it now on Avril Lavigne's official website, right under the huge banner announcing her tour (she just got back from Japan, where she is oddly popular) and linking you to where you can buy tickets and albums. If you didn't scroll down, don't worry — the video begins playing as soon as you show up on the site.
Before this video, Lavigne was the subject of approximately zero American attention. Now, she's trending on Facebook because she was racially insensitive — and good luck getting the song out of your head.
The less scrupulous portions of the pop machine know that any press is good press. Nobody cares if Avril Lavigne's single is terrible, but they do care if it's racist. And she'd like you to care about her — no matter the reason. If we really want to combat cultural appropriation, we'll remember that we vote with our eyeballs, clicks and downloads. We won't watch the video, and we won't download the song.