The Smithsonian Enters the Music Business With the World's First Endangered Song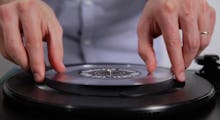 The Smithsonian National Zoological Park Conservation Biology Institute isn't usually in the business of producing hit records. More typically, they're concerned with saving endangered species (Lady Gaga doesn't count) and habitats. But yesterday they made a pretty bold entrance into the music business.
They mailed 400 specially-selected people a polycarbonate record from hit band Portugal. The Man with a song called "Sumatran Tiger" on it. It wasn't anywhere online. In fact, there wasn't a single digital copy of the song in existence. And the polycarbonate would disintegrate after several spins.
It's a clever metaphor for what's become of the song's titular tiger and what role people can play in saving the animal. There are only 400 Sumatran tigers left on the planet. That's mostly because the commercial market for the tigers is robust. Poaching accounts for over 78% of the tigers' annual deaths — at least 40 deaths per year. That means that in fewer than 10 years, there could be no Sumatran tigers left. The World Wildlife foundation has labeled the Indonesian species "critically endangered."
Recipients of the record were given instructions on how to reproduce the song. Over the course of 24 hours, it has begun surfacing online, and it's excellent, a lush synth-rock endeavor with the group's signature falsetto hooks.
Portugal. The Man is a good advocate for any species. The band has gained serious influence over the past couple of years on the strength of smart, poppy songs like "So American." Natives of Wasilla, Alaska, they're especially sympathetic to environmental issues. As lead singer John Gourley told the Washington Post (in falsetto, we imagine): "I mean, the only time you see these things is when your friend's dad goes hunting and brings back a grizzly bear. That always made me really sad... People have to go out and find them — this massive, amazing creature and shoot it and bring it back for, in most of my friends' cases, what reason other than saying, 'I killed a bear'?"
The campaign is unequivocally a good thing: good music for a good cause. Unlike the archetypal celebrity-saving-world model ("Hi, I'm Sarah McLachlan, would you be an angel for a helpless animal?"), this is creative and not at all melodramatic. And while the zoo and the band are raising awareness about the tiger, the endangered song is a subtle reminder, too, of the impermanence of everything, songs and tigers alike, even in a digital age.
Here are some pictures of Sumatran tiger cubs, just to help the cause:
Image Credit (All): Getty