Where American vs. Chinese Children Score on Basic Math and Science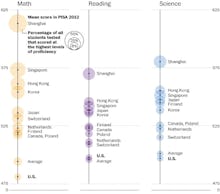 The news: The global race is on to innovate and push technology to new limits — but you wouldn't know it looking at America.
The U.S. News & World Report released its latest STEM index, which examines student aptitude and interest in the fields of science, technology, engineering and mathematics. Its conclusion: Despite the continuing growth of STEM industries and opportunities for employment, there still isn't enough talent to fill those jobs — and interest in them has barely grown over the past decade.
"As the STEM Index suggests, if educational trends continue, fewer qualified candidates will be available to support growth in these areas," said William Swanson, the chairman of Raytheon, which partnered with U.S. News to create the index. "It's critical to our business and the United States' long-term economic outlook that we inspire young people to engage in STEM and dedicate resources to supporting them throughout their academic lives."
Image Credit: U.S. News & World Report
How did they come up with the index? The analysts looked at eight factors: ACT math and science scores, Advance Placement (AP) test scores in STEM subjects, college and graduate degrees granted, U.S. employment in STEM fields, Program for International Student Assessments (PISA) math and science scores, SAT math scores, National Assessment of Educational Progress (NAEP) math scores and interest in STEM at the high school level.
In terms of employment and the number of degrees granted, there's been a steady increase. But when it comes to standardized scores, American high schoolers are falling way behind.
Image Credit: U.S. News & World Report
Image Credit: U.S. News & World Report
Image Credit: U.S. News & World Report
Image Credit: U.S. News & World Report
But what's most troubling is the fact that high schoolers are simply not interested in pursuing STEM careers anymore. My College Options, the nation's largest college planning program operated by the National Research Center for Colleges & University Admissions, asked high schoolers to indicate up to two disciplines they would like to pursue. What the program found was not too encouraging. Very few expressed any serious interest in STEM fields. 
Why is this such a problem? STEM fields are where jobs are being created. According to U.S. government estimates, STEM employment grew by "more than 30 percent, from 12.8 million STEM jobs in 2000 to 16.8 million in 2013."
It's worrisome that American students are struggling to keep up with international competition. When you compare PISA scores, American high schoolers are dramatically trailing behind comparable countries — especially in math.
Image Credit: The Washington Post 
And these are the fields with the most potential for growth. Analysts believe than in 30 years, nearly half of the U.S. workforce could be replaced by robots. In comparison, U.S. News estimates that half of available jobs will require STEM skills in order to push technology further.
So the very fields that have the best potential for growth are losing interest among America's future workforce, which should be deeply concerning for anyone who cares about the U.S. being a leader in the global economy. Simply put, American students are not keeping up with their competitors in Asia and Europe, and that's a bad sign for the future.