There's Been a Massacre in South Sudan, and No One's Talking About It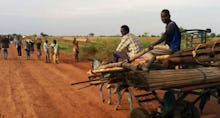 Last week, dead bodies lined the streets leading to Bentiu, the capital of South Sudan's oil-rich Unity State. Inside the city, more bodies were stacked inside mosques, churches and hospitals. Bulldozers were needed to clear the carnage.
In all, more than 400 civilians were killed in an attack the UN believes was orchestrated by South Sudanese rebels and carried out along ethnic lines.
It appears to be the bloodiest attack since conflict began in the new nation in December.
In their report, the UN said that ethnic "Nuer men, women and children ... individuals from other South Sudanese communities, as well as Darfuris" were targeted, some at the local hospital, others while taking refuge at local places of worship.
The UN mission in South Sudan told CNN that certain radio stations broadcast "hate messages declaring that certain ethnic groups should not stay in Bentiu and even calling on men from one community to commit vengeful sexual violence against women from another community."
Nuer civilians were reportedly killed if they didn't join others in cheering on the rebels as they took the town. The members of the rebels are loyal to former South Sudanese Vice President Riek Machar, a member of the Nuer ethnic group.
Darfuris are commonly believed to be part of a Sudanese contingent fighting alongside the South Sudanese government's forces.
Rebels have denied any involvement in the killing, but the UN alleges that rebel forces sent out a celebratory statement that mentioned "mopping- and cleaning-up operations" in the recently seized strategic town.
Though the U.S. and UN have condemned the attack, it's made few headlines over the weekend.
The ethnic targeting of civilians has been an ongoing issue in the conflict between rebels and the South Sudanese government. Before the government accused Machar of a coup d'etat in December, there was already fighting among a multitude of armed groups in the country. After Machar resigned the vice presidency, almost 300 Nuer were killed in South Sudan's capital, Juba, according to the Human Rights Watch. The rebels have been accused of killing Dinkas on numerous occasions.
Since the rebels posed their organized and solidified threat to Salva Kiir Mayardit's government, the violence has displaced more than 1 million people, 80,000 of whom have been internally displaced. Last week a UN peacekeeping site was the target of violence carried out by "armed militants." At least 48 people died. Even those seeking shelter within their country have little reason to feel safe.
CORRECTION 05/01/2014
An earlier of version of this story incorrectly stated that 48 people died during an attack that took place on April 17, 2014. In actuality, 58 people died during the attack.