These Are the Real Rockstars of Country Music — But You Won't Find Them on the Charts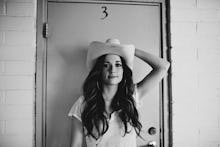 Before Miranda Lambert recently hit No. 6 with "Automatic," the last time a solo female artist cracked Billboard's top 10 was over two months ago, when Kacey Musgraves' controversial joint jaunt "Follow Your Arrow" peaked at No. 10. Looking at the Billboard Hot Country Songs chart today (2 of the 25 songs are by female artists), you'd assume country music was the collective output of Luke Bryan and the various guys who came to his house parties. If you looked at the critical response and history of country, though, you'd find a different story.
At the end of 2013, Musgraves, Ashley Monroe and Brandy Clark each received extremely high praise from esteemed publications like Rolling Stone, the New York Times and the New Yorker. Ann Powers at NPR went so far as to declare 2013 country music's "Year of the Woman." Musgraves and Clark, who are frequent collaborators and have also written for Lambert, write passionately honest pieces about the dark side of small town life, with all its drug addiction, dead-end jobs and dreams that will probably never come true. Monroe, who is also one-third of Pistol Annies along with Lambert and Angaleena Presley, is a traditionalist with an edge, underscoring her twangy lilt with lyrics about whiskey, weed and whips. Meanwhile, in the past year, male country has become so bro-y that the snares are starting to sound like cans of Bud Light opening.
Maybe it doesn't add up because today's women aren't following the right formula: 1. Write a Nickelback b-side. 2. Work in something about alcohol. 3. Get any girl into any truck. 4. Cash in. 5. Remix and/or repeat. But whatever the reason, the best voices in country are being suppressed.
That's a problem because it skews our whole nation's understanding of country music. Despite its presumed conservatism, country has actually long served as an outlet for women to demand more from their own lives. Reba McEntire wondered "Is There Life Out There" in 1992; Martina McBride declared "Independence Day" in 1993; the Dixie Chicks said "Goodbye Earl" in 1999. And who could forget when Dolly Parton brought women to the workplace in "9 to 5"? For decades now, women have brought a much needed political awareness to country. Recently, they've fully taken on its story telling mantle.
Anyone listening to today's country hits, though, could easily overlook the genre's contribution to gender equality. An astounding number of songs feature the word "girl," which is both impersonal — any girl will do so long as she wears her Daisy Dukes — and infantilizing — "I'm a man, you're a girl," "Me Tarzan, you Jane," and so on. Many go on to give said girl instructions, whether it's to "slide that little sugar-shaker over here" or to "get up on the hood of my daddy's tractor." It's frustrating.
So there's a gender war going on in country where the vivid, three-dimensional characters that we see in songs like Musgraves' "Merry Go Round" or Clark's "The Day She Got Divorced," are reduced to a pair of tattered denim shorts. When women are ignored on the charts, they become forever props in someone else's music video. And when the rich characters they create go unnoticed, the most important part of our country music starts to fade away.
The genre encourages women to be conservative, then, while simultaneously rewarding male artists who take risks (look at Eric Church or Keith Urban). Only Lambert has found a way to straddle the critical and commercial worlds, offering up radio-friendly singles like current hit "Automatic" while taking risks with tracks like "All Kinds of Kinds," which, for a song that references cross-dressing politicians, did well to reach No. 24. The commercial side of her success resembles that of the more risk-averse Carrie Underwood, who, should she release a new record in 2014, could help to bring some estrogen back to the mainstream, though likely without much controversy.
If this were simply a battle of commercial vs. artistic, it wouldn't be much of a conversation. But when male artists can defy the status quo and still ascend the charts while women can barely get airplay, it's a problem. It's a problem that men and women who care about country should think about, because the women of the genre are such key figures in keeping its real traditions alive. Instead of singing at women, let's start singing along with them.