Anti-Thigh Gap Jeans Prove Healthy Doesn't Have to Mean Skinny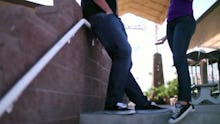 The disturbing thigh gap phenomenon, in which young women attempt to become so thin that their inner thighs don't touch each other, has become so prevalent that some companies have been caught Photoshopping an artificial thigh gap in their advertisements. This type of beauty standard is not only unattainable, but it's damaging to young men and women easily swayed by the fashion industry. 
Enter Barbell Apparel, a company that apparently knows better than to follow the crowd when it comes to this particular fashion trend. In recognition of the fact that healthy, athletically minded men and women need a comfortable denim option, too, the jeans manufacturing startup has developed the perfect anti-thigh gap jeans collection.
"We were tired of struggling with jeans that didn't fit, weren't comfortable and completely restricted our ability to move. So we decided to fix it," the company notes. The new prototypes have attempted to completely redesign the way jean pants legs are put together.
"We wanted jeans that were built for strong, powerful legs that would allow us to move completely freely and still look and feel like fashionable denim," Hunter Molzen, co-owner of Barbell Apparrel, told Fast Co.Design. "Even for active people whose legs aren't particularly muscular, we wanted to give them a denim option that allows them to have amazing flexibility and freedom of movement."
Image Credit: Twitter/Barbell Apparel
To meet the cost of large-scale production, the company also launched a Kickstarter campaign. Barbell met its goal of $15,000 within 47 minutes of the launch. In fact, people loved the concept so much that the company has already received more than $278,000 and has pre-orders pouring in from around the world.
One of the best aspects of the Barbell concept is the way the products are meant to encourage a healthy lifestyle, while acknowledging that being athletic doesn't necessarily mean being thin. Originally, the line was designed for athletes, mountain climbers or cyclists who have muscular thighs and quads. The line now carries a large number of sizes in an effort to accommodate as many healthy body types as possible. 
Image Credit: Barbell Apparel
While this won't fix everything that's currently wrong with mainstream beauty standards, the widespread support shown for the Barbell Kickstarter campaign suggests that people are more than ready for brands that make an effort to help people feel more comfortable with their bodies. The fact that these jeans are designed specifically to help the wearer live an active, healthy lifestyle is just a bonus. More of this, please.