Georgia Just Passed Its "Guns Everywhere" Bill. Can It Really Make the State Safer?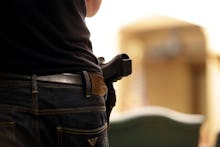 The news: On Wednesday, Georgia Governor Nathan Deal signed the Safe Carry Protection Act into law — and it has great repercussions far beyond the state lines.
The so-called "guns everywhere" bill will allow licensed gun owners from Georgia and 28 other states to carry their firearm in bars and certain government buildings in the state. Even places of worship can opt in to allow guns, and school districts, too, can authorize staff to carry weapons "within school safety zones under certain circumstances." 
The law will go into effect on July 1.
But it's not simply a matter of Georgia adopting a new law for its residents: Across the country, politicians and advocates are looking at how effective different gun regulations are, from mandatory carry laws to strict anti-gun restrictions. Though there may not be a one-size-fits-all approach that works for all of America, the Georgia model provides an interesting option that others are sure to dissect in the next few years.
What people are saying about the law: Predictably, the bill — the most permissive gun law in the books — has caused a lot of hullabaloo across the country. On the one hand, the National Rifle Association called it the "most comprehensive pro-gun bill in state history" and a "momentous event." On the other hand, Americans for Responsible Solutions, the gun control group founded by former Rep. Gabrielle Giffords (D-Ariz.), called it "the most extreme gun bill in America."
But within Georgia itself, the bill breezily passed the legislature and made it to the governor's desk. Passing by 112-58 in the state House and 37-18 in the state Senate, it was even endorsed by state Sen. Jason Carter, a Democrat who is running to challenge Deal in this year's gubernatorial election.
The legislature did have to get rid of some of its more controversial measures, such as allowing guns on college campuses and in all churches. But gun control advocates still take issue with the fact that bars, which previously had to opt in to allow guns on their premises, now have to opt out if they don't.
The law also allows guns in certain parts of the airport, including "an airport drive, general parking area, walkway, or shops and areas of the terminal that are outside the screening checkpoint" — raising safety concerns.
Other notable parts of the law include: Allowing hunters to use silencers and suppressors, permitting gun owners with revoked licenses to reapply in three years and forbidding police officers from asking to see gun permits unless the person is committing a crime.
There is a precedent in Georgia. An example that gun advocates like to point at is Kennesaw, an Atlanta suburb with an unusual gun law: for the past 30 years, everyone in a household has been required to have a gun, barring few exceptions. Residents say it acts as a deterrent for crime, and it seems to be working: the town of 30,000 has barely any violent crime, and there have been only three murders since 2000.
Other small town have followed suit, and make the argument that guns scare off criminals. Of course, that's easier to enforce in small neighborhoods, where community-based law enforcement is effective. In big cities or at the state level, there is a much higher likelihood of crime, and it's harder to keep an eye on the entire population.
Guns across the country: But strict anti-gun laws are not particularly effective either. Despite Mayor Rahm Emanuel's big push towards curbing crime, Chicago had a devastating streak of 45 shootings just this past weekend. The city has said it will double down on violent crime, but gun violence there remains high as ever.
And there really isn't much of a consensus across the country. On the same day as the passage of the Georgia law, Arizona governor Jan Brewer vetoed two pro-gun bills that would have allowed firearms in public buildings. Since the beginning of this year, six states have eased gun laws, six have strengthened them and four have both eased and strengthened certain laws.