Chase Bank Is Slut-Shaming Porn Stars, And It's Totally Legal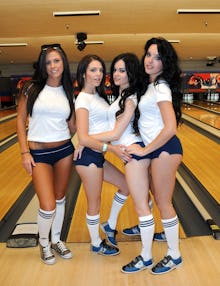 It's tough out there for a porn star — if you have the misfortune of banking with Chase Bank, that is. Adult performers across the industry are reporting that JPMorgan Chase has sent hundreds of letters to adult performers informing them that their accounts will be closed May 11. While Chase has yet to comment on the story, the company has a history of enforcing a quasi-morality clause, prohibiting some businesses deemed "adult" in nature.
This story was supplemented by reporting by Perez Hilton, who spoke to several sources inside the adult industry, one of whom sent a screenshot of the letter. "We recently reviewed the account and determined that we will be closing it on May 11, 2014," the letter from Chase wrote. "Please accept our apologies for the inconvenience."
After the Perez Hilton story went live, other porn performers, including Layton Benton and Teagan Presley, began posting similar letters from Chase Bank on Twitter. Benton's account was actually closed on April 11.
A clearly irritated Presley, meanwhile, slammed the company for shutting down an account she had used since adolescence.
And these aren't isolated incidents. According to XBiz, Chase Bank has actually been shutting down porn performers' accounts over the past few months. What's notable about this is that while some of these performers are using their accounts to deposit checks from strip clubs and adult companies, they generally don't appear to be using Chase Bank for x-rated purchases.
Sadly, none of this is particularly surprising as this is not the first time Chase Bank has attempted to deny services to businesses dealing with sex or sexuality. Mark L. Greenberg, founder of a softcore porn studio, even filed a lawsuit against Chase after they refused to allow him to refinance a loan, allegedly because of his job. And more recently, Tiffany Gaines, the CEO of Lovability, ran into trouble with Chase when the bank refused to process her payments — all because she was selling condoms. When reached for comment by Gaines, a Chase representative told her "processing sales for adult-oriented products is a prohibited vertical."
While it's not clear if the same adult products-ban is affecting the adult performers, the issue has received enough attention that some in the industry are calling for a national movement to find a sex-positive banking alternative. Cindy Gallop, the founder of Make Love Not Porn, a site that crowdsources footage of consensual sexy times, had to work hard to find a bank that would even accept her company after Chase rejected the start-up last year. Make Love currently uses a German (and presumably less puritanical) bank. But that doesn't make the current discrimination any less infuriating.
"What I love about this episode is that it reflects the ridiculous hypocrisy and standards about our society and business in general," Gallop told PolicyMic. "We know perfectly well people running those banks are watching porn."
Gallop said she'd like to see porn performers "mobilize a movement to call for a bank that would be willing to open accounts for them. Whichever that bank is, it will see a flood of applications."
In the meantime, porn performers like Dakota Skye and their supporters are taking to Twitter to voice their frustrations with Chase, which so far has not commented on the brouhaha.