Never-Before-Seen Andy Warhol Works Have Been Found on a Floppy Disk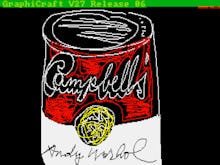 There are Andy Warhol images we've seen a million times — the Campbell's soup cans, the silkscreen Marilyn Monroe — and then there are the Andy Warhol images that have been completely hidden. Until Thursday.
In a story that sounds like a work of fan fiction, the Andy Warhol Museum has recovered a series of Warhol's work that have been trapped on a floppy disk since 1985.
It all began with a YouTube video. In a video from the 1985 Commodore Amiga product launch press conference, Warhol sits at a desktop computer painting a digital portrait of Blondie singer Debbie Harry — the entire moment part of a promotion for Amiga. Artist Cory Arcangel saw the video on YouTube and wondered about the wherabouts of Warhol's work made during that partnership. On a visit to the museum, Arcangel tracked down the Warhol Museum's curator Tina Kukielski, setting off the floppy disk image hunt.
For anyone not computing in 1985, the Amiga was an early mainstream desktop computer touted for its graphic capabilities. Of course even after locating the floppy disks, getting the images off of the obsolete 30-year-old technology was a feat. It took Arcangel, Kukielski along with archivist Matt Wrbican and Carnegie Mellon's University Computer Club — a specialist in older programming — to locate the images and successfully retrieve them. 
Andy Warhol, Andy2, 1985, ©The Andy Warhol Foundation for the Visuals Arts, Inc., courtesy of The Andy Warhol Museum 
What they found was a mixture of the familiar and the unfamiliar. There are reinterpretations of his soup cans and his Marilyn Monroe, as well as doodles, photographs and other new images that show Warhol figuring out what happens when you mix computers and art.
Andy Warhol, Venus, 1985, ©The Andy Warhol Foundation for the Visuals Arts, Inc., courtesy of The Andy Warhol Museum 
The video and works are a strange and exciting confluence of eras: An iconic 1960s artist stepping into the digital age. All in all, an incredible extension of his legacy. 
As Wrbican put it, "In the images, we see a mature artist who had spent about 50 years developing a specific hand-to-eye coordination now suddenly grappling with the bizarre new sensation of a mouse in his palm held several inches from the screen. No doubt he resisted the urge to to physically touch the screen."
Andy Warhol saw the future, and this is what he made with it.