What 11 Famous Musicians' Spotify Playlists Look Like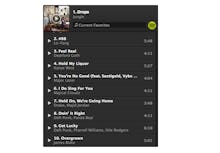 Everyone has at least one cool friend who always knows the best music. They knew Lorde when she was Ella. They were dancing to Daft Punk before they were full-android. They were crying with Taylor Swift before Jake Gyllenhaal broke her heart.
But who do music's biggest stars listen to when they're coming up with their ideas or just unwinding? If you browse through the verified accounts on Spotify (none of that I_Swear_I'm_The_Real_Rihanna nonsense), you can find an untapped wealth of some of the greatest music around. 
These playlists are excellent for listening's sake, but more than anything they offer an unanticipated snapshot of just how the biggest artists' today come up with their sounds. Each one is like a family tree of some of our culture's most important music.
Here are 11 of the most awesome of these artist-curated playlists to help you expand your own musical palette.
1. Lorde
Image Credit: Facebook
A wide range of artists appears on Lorde's constantly updating "Current Favorites" playlist. Right now, there's a lot of breathy, hip-hop influenced dance tracks, like Majical Cloudz and Jungle.
The songs reflect the minimal but evocative sounds she uses for hits like "Royals." It's also worth noting that if you met a 17-year-old with this playlist, even if she weren't a pop star, she'd still be the coolest 17-year-old in the world.
2. Daft Punk
The two most recently played artists on Daft Punk's music profile are Phil Collins and Raekwon of Wu-Tang Clan. That's a pretty fair approximation of just how far Daft Punk's music palette ranges.
Both members of the band have playlists up. Thomas Bangalter's (storm trooper helmet) is a little more honed in on the band's sound — he has a lot of old-school disco, dance tracks and, of course, close collaborator Phoenix. It's probably why he has twice the followers as Guy-Manuel de Homem-Christo (fishbowl helmet), whose music taste is as erratic as a kitten at a laser light show.
Thomas' playlist:
Guy's playlist
3. Lady Gaga
Image Credit: Facebook
Many artists load up their promotional playlists with their own album cuts to keep the royalties in-house. But Mother Monster is to be commended for only including three of her own songs on her playlist to promote ARTPOP. The three singles appear alongside songs from TLC, Chief Keef and Purity Ring. Gaga would like Purity Ring.
You can hear where she gets her epic sensibilities  (Bruce Springsteen's "Born to Run") and her sense of humor (Beck's ridiculously "Debra").
4. Kacey Musgraves
Image Credit: Facebook
Earlier this year, country music's most talked about star shared a playlist with only five songs called "My Influences." Given her more progressive political stances (see: "Follow Your Arrow") it's great to see how deeply rooted she is in the country tradition (John Prine, Loretta Lynn).
And then, of course, she loves Cake.
5. Kendrick Lamar
Image Credit: Facebook
Mirroring his quiet and composed presence in interviews, Lamar's playlist on the influences behind his phenomenal good kid m.A.A.d city comes with a simple header: "These are some of the records that inspire me to this day." Good taste breeds good music. 
The album is amazing, largely due to its dynamic influences. Lamar's good kid m.A.A.d. city has a lot of Portishead's darkness on low-key, introspective cuts like "Real," and captures Pac on the albums more hard-hitting, in-your-face cuts, like "good kid" and "Backseat Freestyle." This is an incredible look at the album's anatomy.
6. The Black Keys
Image Credit: Facebook
The Black Keys worked with Rolling Stone to create two Spotify playlists, one for each man. Dan Auerbach's focuses on the "Badass Guitars" of blues and Southern rock:
While Pat Kearney's focuses on sultry drum grooves:
Between the two, you can pretty much see exactly where their sound comes from — Southern rock, blues guitar and heavy drum grooves.
7. Snoop Dogg
Image Credit: Facebook
Snoop Dogg has one of the dopest Internet presences. The man is active on Reddit, popping in and out of r/trees to provide expert advice on whatever harebrained argument is taking place, Instagram, Twitter — all that. And his Spotify features a killer gospel playlist that maps pretty clearly onto how soulful, laidback and affirming he is. How much more awesome can the man get?
8. Passion Pit
Even though the records "Sleepy Head" and "The Reeling" are currently in that awkward 5-year-old not-quite-nostalgic-but not-quite-fresh phase of life, they still never fail to get people dancing at house parties.
Here's where the masters get their own party sensibilities from: Major Lazer's ultimate, dirty twerk track "Pon De Floor" and Azalea Bank's rude bitch anthem "212."
9. Rihanna
Image Credit: Facebook
Rihanna is a pop legend. Probably because she really loves pop music.
Ri-Ri may try to come off as edgy and uncontrollable, but her personal playlist features the edited version of Cee-Lo Green's "Fuck You." Got to protect the children's ears. Their eyes though? They can suffer the onslaught of "Pour It Up" video no problem.
10. Katy Perry
Image Credit: Instagram
Rihanna's playlist features Katy Perry, but Perry's doesn't feature Ri-Ri? That's a burn right there.
Her playlist showcases groups similarly artful, refined pop sensibilities to her own, bands like HAIM, M83 and Marina & The Diamonds.
11. Paramore
Image Credit: Facebook
Paramore's label, Fueled By Ramen, posted this playlist to immortalize lead singer Haley Williams' favorite songs of 2012. It features some bangers from The Alabama Shakes and Grimes.
The last two songs obviously did not come out in 2012, but Williams "rediscovered each of them over the summer" and they now have "whole new meanings" for her. The whole thing is a master class in keeping things smart and fun simultaneously.