There Will Soon Be a Barack Obama High School in Chicago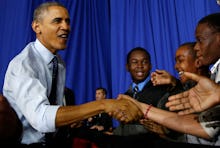 The news: Welcome to Obama High.
Mayor Rahm Emmanuel announced Thursday that Chicago, Ill. will be home to the nation's first high school named after the 44th president. Barack Obama College Preparatory School will open its doors for the 2017-2018 school year, and plans to enroll a freshman crop of 300. The student body will eventually total 1,200, with a new class added each of the following three years.
Already? Believe it or not, this isn't the first U.S. school named for the president. In 2010, Barack Obama Elementary School opened in Prince George's County, Maryland, just outside Washington, DC:
"[Obama] comes from the same cloth that many of our kids come from," said board member Pat Fletcher (District 3) shortly before the school opened. "[Single]-family home, public assistance, being raised by grandparents. That's something concrete that kids can identify with."
Image Credit: Soltesz
Actually, the isn't even our first school named for a sitting president: Richard M. Nixon Elementary School opened in Hiawatha, Iowa in 1970 – pre-Watergate, obviously – and George W. Bush Elementary School opened in Stockton, Calif. in 2003 (still unconfirmed whether the after-school art program is any good).
The background: Chicago is the nation's third largest school district, with 400,000 students in 658 schools. As the eleventh of the city's "competitive selective enrollment" institutions, Obama Prep will find itself in hyper-competitive company – this year alone, the AP reports that 16,500 students applied for 3,200 seats.
Emmanuel's announcement also comes at an especially fraught time for Chicago's public schools. Just last year, the city voted to close 50 institutions they deemed "underutilized" and "underenrolled," while just a few miles across town, other schools faced such steep overcrowding that officials posted an official "request for proposals" inviting publicly-funded but privately-run charter institutions to open up shop in the area. This has led to significant backlash from the Chicago Teachers Union, who are prohibited from representing charter teachers.
Lost in the shuffle is whether a president whose controversial legacy involves escalating drone warfare and record deportation numbers deserves to have schools named after him. Then you look at all the liars, war criminals and slave owners who have multiple American institutions bearing their names and realize this is merely part of a long and storied tradition.
Such is life.