11 Books You Should Read Before Traveling to South Africa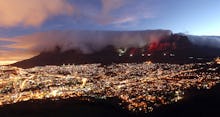 Sunday marked South Africa's 20-year anniversary of its first democratic election. In those 20 years the country has undergone enormous change and these 11 books will introduce you to that evolving nation.
While most South African classics share themes of pervasive violence and conflict, racial divide, and the war against apartheid, this short list is bound together by the issues of new South Africa: transition, identity, healing, restitution, poverty, the AIDS pandemic, traditionalism, dreams and a new kind of violence. These are the themes that tie together the landscape of South Africa today.
So, while you should still head to your second-hand bookstore and collect dog-eared, well-known classics like James Percy FitzPatrick's Jock of the Bushveld, Alan Paton's Cry, the Beloved County, Nadine Gordimer's Burger's Daughter, Bryce Courtenay's The Power of One, JM Coetzee's Disgrace, and Nelson Mandela's Long Walk to Freedom (fact: this is one of the most commonly stolen books from libraries and book stores in South Africa), you should also make your way through this list of less-than-traditional recommendations.
These 11 books are your gateway to understanding the depth of people, culture, conflict and conversations in South Africa from the final years of apartheid through the first four elections in the Rainbow Nation. It's also a guide to important voices in South African literature right now.
Enjoy the reads.
1. 'Dinosaurs, Diamonds & Democracy: A Short, Short History of South Africa' by Francis Wilson
Image Credit: Amazon 
The truth: You can't go to South Africa without a base foundation of its complicated political, racial, cultural and geographic history. Inside this 120-page fast-tracked journey through time — from its early geological formation to the first years of post-apartheid democracy — you will see a constant flow of "outsiders moving in to reshape history: hunters and gatherers, cultivators and herders, iron-workers from the north, and immigrants from Europe and Asia." If, after this, you're craving a deeper foundation, pick up (my favorite) Leonard Thompson's The History of South Africa.
2. 'The Bang-Bang Club: Snapshots from a Hidden War' by Greg Marinovich and João Silva
Image Credit: Wordpress
A hybrid of memoir and reportage, The Bang Bang Club chronicles the lives and work of four white South African photographers — Greg Marinovich, João Silva, Kevin Carter and Greg Oosterbroek — through the years of violence between Nelson Mandela's release from prison in 1990 to the first non-racial democratic elections of 1994. They were war reporters in their homeland, risking their lives to tell the stories of violence and transition in South Africa. Their job — the work for which they gained repute — was to bear witness. This is a story of violence, documenting a country and surviving in body and mind.
3. 'Ruth First and Joe Slovo in the War Against Apartheid' by Alan Wieder
Image credit: Blogspot
This is the first biography of Ruth First and Joe Slovo, husband and wife, leaders of the war to end apartheid in South Africa. Deeply researched, this book has an extensive oral history collected by the author over many years. Weaving documentary and interview throughout, Weider portrays the complexities and contradictions of this extraordinary couple and their efforts to navigate a time of great tension, upheaval and revolutionary hope. It helps readers outside of South Africa understand the end of apartheid through a new lens. Writer, activist and Nobel Prize winner Nadine Gordimer wrote the foreword.
4. 'My Traitor's Heart' by Rian Malan
Image credit: Photo Bucket 
Rian Malan is an Afrikaner, scion of a centuries-old clan and relative of the architect of apartheid. He fled South Africa after coming face-to-face with the atrocities and terrors of an undeclared civil war between the races. This book is the searing account of his return after eight years of uneasy exile. Armed with new insight and clarity, Malan explores apartheid's legacy of hatred and suffering, bearing witness to the extensive physical and emotional damage it has caused to generations of South Africans on both sides of the color line. This is a book of redemption and healing.
5. 'Country of My Skull: Guilt, Sorrow, and the Limits of Forgiveness in the New South Africa' by Antjie Krog
Image Credit: Amazon
Less than a year after his election, Nelson Mandela — imprisoned by the apartheid government for 27 years — created the Truth and Reconciliation Commission to begin the healing process for South Africans across racial, cultural, political and class lines. The commission, headed by Archbishop Desmond Tutu, faced the awesome task of hearing the testimony of apartheid's victims and oppressors. Amnesty was granted to those who offered a full confession of any crimes associated with apartheid. In this book, Antjie Krog, a South African journalist and poet, recounts the drama, the horrors and the wrenching personal stories of the victims and their families. 
6. 'Portrait with Keys: The City of Johannesburg Unlocked' by Ivan Vladislavic
Image Credit: MzStatic 
A portrait of Jo'burg in precisely crafted snapshots, Ivan Vladislavic's Portrait with Keys observes the unpredictable, day-to-day transformation of his embattled city: the homeless using manholes as cupboards, a public statue slowly cannibalized for scrap. Most poignantly he charts the small, devastating changes along the post-apartheid streets: walls grow higher, neighborhoods are gated off, the keys multiply. Security — insecurity? — is the growth industry. South African novelist and poet Christopher Hope describes A Portrait with Keys as "one of the best things ever written about a great, if schizophrenic, city, and an utterly true picture of the new South Africa." 
7. 'Sizwe's Test' by Johnny Steinberg
Image Credit: Amazon 
In Three Letter Plague, renamed Sizwe's Test for American readers, award-winning author Jonny Steinberg explores the remote Eastern Cape village of Ithanga and the lives of a community caught up in a battle against the greatest plague of our times, the African AIDS pandemic. Through his friendship with a young man named Sizwe Magandla, Steinberg tells the story of fear, ambivalence, a deep cultural divide and illness.
8. 'Welcome to Our Hillbrow' by Phaswane Mpe
Image Credit: Ohio Swallow 
Welcome to Our Hillbrow deals with issues of xenophobia, AIDS, tradition and inner-city status in the Hillbrow neighborhood of Jo'burg. First published in 2001, Welcome to Our Hillbrow illustrates the inner city changes 10 years after Mandela's release and grapples with the struggle of black South Africans to create a post-apartheid identity. Deeply autobiographical, Mpe's work takes on the emotions and expectations of a generation that grew up under the apartheid regime and believed its end would bring a positive future. Instead, they were met with the unexpected: poverty, AIDS and unemployment. Mpe died in 2004 while working on his doctorate and studying sexuality in post-apartheid literature, specifically focusing on AIDS and traditional African beliefs.
9. 'Way Back Home' by Niq Mhlongo
Image Credit: Nb
Described as a "literary Molotov cocktail," Niq Mhlongo's novel Way Back Home offers a relatively unexplored sector of South Africa's diverse population: children born to South African, apartheid-era exiles. The overriding theme is violence: in exile, at home, within relationships, within ourselves, within myth and culture and the long border war in Angola, often referred to as "South Africa's Forgotten War." Mhlongo's double-threaded narrative opens doors to discuss uniquely South African issues of land redistribution and land claims, the new governing class, the survival of exile relationships in the new South Africa and identity.
10. 'Thirteen Cents' by Kabelo Sello Duiker
Image Credit: Witness
Between Table Mountain and the ocean shore sits a shadowy, unspoken side of Cape Town: a place of dislocation and uncertainty, dependence and desperation, destruction and survival, gangsters, pimps, pedophiles, hunger, hope and moments of happiness. A coming-of-age story, Thirteen Cents takes us inside the life of a young boy on the street, managing poverty, race, violence and identity. Originally published in 2000 and winner of the Commonwealth Writers' Prize, this was the debut novel of one of South Africa's most promising young literary voices who died in 2005. Throughout his three novels, one published posthumously, "Duiker displayed unwavering commitment to the ideals of a nonracial society in which there is value for life and respect for human dignity," explains short story writer and journalist Siphiwo Mahalashort. 
11. 'Room 207' by Kgebetli Moele
Image Credit: Tower
Kgebetli Moele takes readers inside a single room where six young men have spent more than 10 years struggling to make their dreams come true in Jo'burg, the heart of South Africa. Moele's raw, stunning prose weaves despair and humor in the telling of a classic narrative: the need to succeed, at all costs. Told through the lives of six male artists Matome, Molamo, Zulu-boy, D'nice, Modishi and the nameless narrator, Room 207 is the story of dreams, friendship, sexuality and identity in the new South Africa.