Rich People Are Paying Millions For Banksy Art. Here's What He Has to Say About It.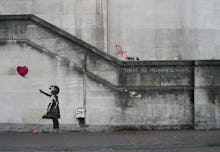 At this very moment, there are seven works attributed to Banksy on display at the ME London hotel. Cheekily called "Stealing Banksy?" the show describes itself as "showcasing the most expensive collection of Banksy artworks ever assembled under one roof" — at least until it's all auctioned off on Sunday. Taken from doors, walls and the sides of trucks the range of pieces includes some of his most famous works like "No Ball Games" and "Girl with Balloon." 
Image Credit: Flickr
The problem here is that Banksy does not condone any of it. He took to his website to denounce the show: "This show has got nothing to do with me and I think it's disgusting people are allowed to go around displaying art on walls without getting permission." He does not mince words. 
The Sincura Group, the company behind "Stealing Banksy?" is the same company that sold Banksy's "Slave Labor (Bunting Boy)" at auction in 2013 for $1.1 million. 
Image Credit: Blogspot
Sincura Group, for its part, seems to view their work selling Banksys as a preservation of his work, rather than a perversion of it. The company says they get the work after being approached by the building owners who want the artwork removed from their properties.
According to Tony Baxter, director of Sincura, the company does not make a profit off the sales. "We encourage the owners to make charitable donations to the community from where the artwork originated," he told the New York Times. 
It's estimated that the works on sale this weekend will sell for between $250,000 and $1.7 million a piece. "No Ball Games" is expected to sell for $1.7 million, while other famous works like "Girl With Balloon" and "Old Skool" are expected to go for $553,520 and $1.037 million, respectively. 
Image Credit: Banksy Wallpaper
Banksy has a famous and public disdain for capitalism mixed with art, and he has made that point various times. His disdain was on full display when his work which reads "I can't believe you morons actually buy this shit" was sold at auction without his permission. He made the point through art again this past fall in New York when Banksy canvases were sold for $60 a pop at a street booth. The estimated value for the paintings was $200,000 each. 
Image Credit: WordPress
Banksy's works are generally done publicly and intended for public display, which makes the auctioning off of the pieces such an ethical grey area. 
"Commercial success is a mark of failure for a graffiti artist," he said in a rare interview with Village Voice. "We're not supposed to be embraced in that way. When you look at how society rewards so many of the wrong people, it's hard not to view financial reimbursement as a badge of self-serving mediocrity." He finished the thought saying "it feels like as soon as you profit from an image you've put on the street, it magically transforms that piece into advertising."
This must all be very confusing for an artist whose estimated net worth circles around $20 million. And enraging when much of that art is sold without your consent.