Solar Power Is Skyrocketing — But Now a Conservative Group Wants to Stop It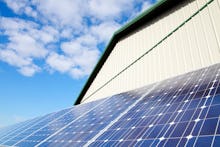 The United States' solar energy-generating capacity has skyrocketed in the past four years, growing by an astonishing 418% by the estimates of the U.S. Energy Information Administration. Solar is no longer niche; it's 1.13% of total American energy capacity. Mainly, this can be attributed to a rapid decrease in the cost of solar panels, which are now cost-competitive with coal and natural gas.
If it keeps up this kind of astronomical growth, solar could pose a serious threat to the market share of the fossil-fuel industry. And Koch Industries, along with other big oil companies like ExxonMobil and Chevron, are fighting back.
Koch Industries, owned by multi-billionaire brothers Charles G. and David H. Koch, is the biggest oil and gas contributor (beating even ExxonMobil) to the political electoral system, spending $2.3 million in the first five months of 2012 and over $8 million in 2011. Koch Industries holdings include Flint Hills Resources, which processes 300 million barrels of oil a year (possibly up to 5% of the U.S.' carbon footprint), and the company is one of the top five oil speculators in the world. It has a vested interest in driving up the price of oil, while another of its subsidiaries, Koch Carbon, boasts that products from its subsidiaries touch more than 40% of the one billion tons of coal produced every year.
Suffice it to say that Koch Industries is not a big fan of solar, which threatens to challenge their entire business model. So a coalition consisting of the Koch brothers, the right-wing American Legislative Exchange Council (which backed more than 70 bills in 37 states to impede clean energy), major power companies and anti-tax crusader Grover Norquist are fighting to roll back solar-friendly provisions in dozens of states. The Los Angeles Times names Kansas, North Carolina and Arizona as some of the most prominent targets and says they nearly scored a win in Oklahoma where the state legislature passed a bill allowing electric companies to charge customers who use home solar panels to offset their electric consumption. Oklahoma Gas & Electric says this fee is necessary because the lowered consumption of electricity from these customers means they aren't pulling their share of maintenance costs. Essentially, they're saying homes that use renewable energy, while having the gall to remain connected to the electrical grid, are freeloaders.
The real story: Of course, maintenance fees aren't really what's behind this effort. In 1977, discriminating against solar customers in this manner was made illegal. And even now, just 200 to 400 of OGE's customers use solar panels or a small wind generator to lower their electrical bills. But a 2013 report by the Edison Electric Institute, the industry's trade group, warns of "a day when battery storage technology or micro turbines could allow customers to be electric grid independent ... As this threat to growth becomes more evident, investors will become less attracted to investments in the utility sector." The new legislation is obviously intended to forestall mass solar adoption by making it less cost-effective to install a secondary, renewable power system. A company spokesman even said that "We're not anti-solar or anti-wind or trying to slow this down, we're just trying to keep it fair ... We've been studying this trend. We know it's coming, and we want to get ahead of it."
Both the Edison Electric Institute and Koch-backed Americans For Prosperity have run television ads claiming renewable energy will result in big utility rate increases. And Koch Industries is one of the biggest funders of climate change denial. From 1997 to 2010, Greenpeace estimates groups involved in climate change denial received over $61.375 million from the brothers' network.
It doesn't have to be this way, and thanks to Oklahoma's Republican Gov. Mary Fallin, it won't yet. Gov. Fallin signed an executive order mostly neutering the provision, thanks in large part to an alliance of Tea Party-style conservatives and traditional environmentalists who think utility companies don't need to be coddled by state governments. But the fight is far from over, and the energy industry has a lot of money.