Marvel Will Kill Off One of Its Most Iconic Characters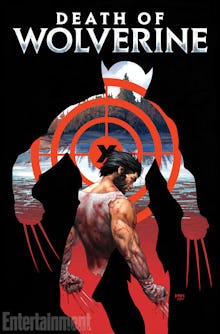 It's been nearly 40 years since Wolverine made his first appearance in Marvel's The Incredible Hulk Vol 1 #180 in Oct. 1974. Over his lifespan, James "Logan" Howlett has become "a soldier, a samurai, a superhero, an X-Man, an Avenger, the amnesiac victim of horrific scientific experiments, a renegade, [and] a teacher."
Now he's going to become a corpse.
Marvel has been hinting that this summer's story arc, titled "3 Months to Die" and in which Wolverine has lost his mutant healing abilities, will result in some kind of radical transformation for the character. Now it's confirmed via Entertainment Weekly that the arc will culminate in a four-part miniseries titled Death of Wolverine written by Charles Soule and drawn by Steven McNiven. The four-parter will stretch from Sept. 3-24 and will see the character's first permanent death (as far as that goes in the world of comics, which is to say you could very well see the character return with some Marvel hand-waving pretty soon).
"For a long time, no matter who Wolverine was battling, he's been the eternal victor," Marvel executive editor Michael Marts told EW. "He almost always comes out on top. Now he finally comes up against an adversary that he cannot win against, he cannot fight. What does that mean for this character who's been around for hundred years?"
Marts insists that Marvel is approaching the series "from a standpoint of finality, of closure ... You're gonna be entering into a world without Wolverine. That affects not only his teammates, but also the Marvel Universe at large. We've got a lot of things in the works already."
According to Soule, Wolverine is "reflecting on his own life as he's reflecting on his own death. We wanted to have the reader do that at the same time. In each issue, we're focusing on a different aspect, or a different quintessential Wolverine."
The death of Wolverine means different things for different people. Comic fans will probably wonder how this will affect the greater X-Men universe where Wolverine has often played a central, transformative role. Bustle, on the other hand, has more this-world concerns — like if we'll "one day stop seeing Hugh Jackman hairy, clawed up, and shirtless?"
Though to be honest, is Wolverine even that great? Maybe he had it coming.