Snoop Dogg Has a Message for the Racist Owner of the NBA's LA Clippers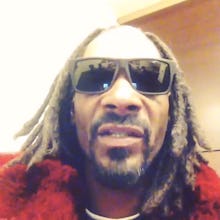 There are two parts to this story. There's the awful thing L.A. Clippers owner Donald Sterling said, then there's the amazing thing rapper Snoop Dogg said in response.
What Sterling said: On Friday night, TMZ Sports released an audio recording of a heated argument between Sterling and his girlfriend V. Stiviano on April 9 over a photo she posted on Instagram with NBA legend Magic Johnson. Over the course of the roughly nine-minute recording, Sterling yells at Stiviano for posting a photo with a black person (keep in mind that Stiviano is black and Mexican).
The conversation includes a few highlights such as:
"It bothers me a lot that you want to broadcast that you're associating with black people. Do you have to?" (3:30) 
Right, because everyone knows a proper black woman would never make it known that she was associating with black people. 
"You can sleep with [black people]. You can bring them in, you can do whatever you want. The little I ask you is not to promote it on that ... and not to bring them to my games." (5:15)
Fair point, black people can be treated like play things, but just don't let anyone know about it. And keep them out of NBA games ... which won't be that hard. African-Americans barely play in the NBA at all, they make up just a paltry 76.3% of the league.  
"I'm just saying, in your lousy fucking Instagrams, you don't have to have yourself with, walking with black people." (7:45)
While the jury's still out on Instagram's value to society, again, Sterling is just saying that she shouldn't fill her account up with photos of her and black people. Totally reasonable. 
"... Don't put [Magic] on an Instagram for the world to have to see so they have to call me. And don't bring him to my games." (9:13)
Again, for the love of god, keep Magic Johnson (the multi-time NBA champion, NBA Finals MVP, NBA regular season MVP, All-Star and all around basketball legend) out of his Clippers games. Seems totally not crazy. 
Donald Sterling. Image Credit: AP
Sterling has a documented history of racist behavior and has twice been sued by the federal government for refusing to rent apartments to black people and Latinos. 
Luckily for Sterling though, he won't have to worry about Magic attending any more Clippers games anytime soon. 
What Snoop Dogg said: While responses have been pouring in from around the NBA, sports and society in general (Reverend Al Sharpton, NBA legend Dominique Wilkins and Keith Olbermann were just some of the many to weigh in), one response in particular stands out. And you can watch it for yourself below (Warning: definitely NSFW)
Sure, his words may be kind of harsh or profane, but they're really nothing compared to the hateful sewage Sterling spewed out in that audio recording. Though we'd like to think that of all places, the NBA would be welcoming of African Americans, it seems there's nowhere the hateful tentacles of hatred and racism can't reach.