15 African-American Male Teachers Explain the Inspiring Reasons Why They Teach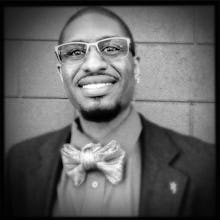 They come from around the country, in every city in America. They believe that change is achievable, that good role models are important and that education can, and should, be fun. These are some of the African-American males who have answered the call to teach, something of a rare breed among American educators today. Currently fewer than 2% of America's teachers are African-American men, a shortage the 
"To increase these numbers we must explore, examine, and confront all of the current and historical social and political forces at work that have led to this troubling scarcity," the site explains. "We must also look to those remarkable and courageous brothers who make up the 2% for guidance. We must encourage them. We must support them."
Other programs, such as U.S. Secretary of Education Arne Duncan's Teach.org initiative, are similarly working to help push more men into the classroom. But clearly, no one program will be able to solve the complex problem.
Here are 15 examples of black male educators explaining why they answered the call to teach.
1. Eric Bunting
I teach because I want to be an advocate for change in the minority community. I want to see the negative statistics about minorities reversed. It can be done, but it starts with education. 
I teach because I want to be an example. I want children of color to look at me and say, "If he can do it, I can do it." I teach because I know how great of an impact education has on a child's future. I have accepted this calling ... I have acknowledged my responsibility. This is why I teach.
2. Jeremy Guyton
"Throw the ball to me," [my student] screams.
"No, girls can't play football," he retorts.
Confused and frustrated, she turns to me.
I teach to trouble this notion of identity: That there are certain givens about our bodies dictated by race, gender, sexual orientation, able-bodiness, and the list goes on.
3. Ray Clark
[In high school] I came in contact with several teachers who helped me see the world beyond my immediate neighborhood. They, along with my parents and many other key role players, shifted my paradigm from what I call a limited view of the world from my neighborhood perspective, to a world of unlimited hope and possibilities grounded in education and knowledge.
4. Terence Mathious
I teach because it is fun! At the onset, I entered the field because there was a need for men, especially black men, and the opportunity to make a difference in the lives of children.
After several years of being the field of education, I say I teach today because I provide students access to a man of color that is pushing them toward success.
5. Christopher Jett
I teach primarily because it's in my blood to teach. Our people have always been exemplary pedagogues, so I am building on that robust legacy. Additionally, our Africana people have a longstanding history of mathematical brilliance, and it is my duty to awaken the mathematical brilliance within my students.
I am working diligently to improve the mathematics achievement outcomes for our people at the collegiate level, especially black males. In short, I teach to empower, liberate and challenge our people to use mathematics as an analytical tool to benefit our communities and our lives more broadly.
6. Ricky Williams
I teach because I understand and see the need for us, black, male teachers, in the classroom. Not just someone delivering information on a particular subject but someone who looks like, understands, and can relate to our young men. I teach because our young men of today are lost and can't find their way by themselves. I teach because it is my duty to pass down to this generation the tools that were given to me; tools that help me to make the right decisions academically and morally, the tools that taught me that I Am Somebody and to therefore walk this path with pride, and the tools that taught me what it is to be, and how to become, a black man.
7. Ryan DeRousselle
I teach to our fatherless generation because I am fatherless. As a child, I never knew what it felt like to be given any type of affirmation from a man. I want to be present so that the void that this hurt creates can be bandaged by a sense of hope, belief and love. I see myself in all of my underprivileged black students. I see their struggle because I have been there. I see their hurt because I have experienced their pain.
8. Richard Aktins
I teach because I believe that teaching is a form of art that should be perfected for the sole purpose of educating the youth and cultivating the minds of the leaders of tomorrow. When I look back on my life 50 years from now, I will be proud to say I dedicated my life to enlightening the youth of urban America.
9. Timmy Jones
I teach because I love. I love the youth in my community and I have a strong desire to see them become successful and productive...
I teach because it's a necessity. Our youth deserve to share the experiences of their ancestors and a chance to create opportunities for themselves and for those who will follow them. Some day, the youth will have to guide me, and I pray that I can influence the success they achieve.
10. John Burnett
I teach for the fatherless boy, the boy who never knew his father. I teach for the young man whose mother is shouldering the immense load of raising him on her own. If she needs my help, I am fully committed. I will be there.
I teach because they are like me. In fact, they are me when I was much younger. Young black boys need a steadfast advocate who will always support their best interests and that's what I will do. 
11. Korby Wesley
I teach because there is an abundance of young black students who lack a positive male role model in their life...
I strive to motivate and inspire my scholars to look beyond their unfortunate situations in life and plan for a better future. Having a black man in their life that cares about them and helps them every day is a necessary stepping stone to raise self-esteem and take our children to a higher level.
12. Jimmy Jerkins Jr.
I teach because I believe in something bigger and higher than me. You can call it God, being spiritual, the universe, the cosmos or just life (seen and unseen). Well, what does that mean? To me, those things mean love and using that love for something that will make an impact and reverberate throughout someone else's and my own life. I believe that you should want to make a positive difference on any level in this world and cause a chain reaction that will expand in all directions, like ripples from a stone being dropped in a lake.
13. Richard Robinson
I teach because I was taught with compassion, care and dedication. I remember the names of every teacher that I ever had on a regular basis. They each offered me something that I still carry with me today, especially those that looked like me...
I teach because I recognize myself as a role model. Whether or not I accept the role matters little to reality that I am one. Youth always look to their elders (in this case "elder" meaning a person just years older) for indications of how things are done. They literally watch us, so I teach in a sense to model style, substance, and behavior. The example I embody will likely outlast any lesson I offer.
14. Dashun Beck
I currently work in private school serving predominantly black children. It is a Christian school that teaches and abides by the word of God.  I love children tremendously and that feeling of helping them get to their next place in life...
Just as I teach them, they teach me in ways on how to approach challenges and obstacles in my own life. You have to be adaptable and flexible. Some struggles cause you to have to be creative in a resolution. I simply teach because I love to help people and I know I can make a difference in someone's life. 
15. Gary Briggs
I teach to inspire that unrelenting pursuit of knowledge — the kind of curiosity that fosters change. The type of change needed to transform communities, particularly communities like the ones my students come from. Having the incredible pleasure of exposing my students to new ideas through text is a responsibility that I hold dear.
We've got a community to build. My students will play a constructive role in that building process. I won't accept anything less.