Iggy Azalea Sums Up the Music Industry's Ridiculous Double Standard for Women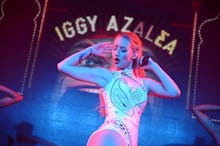 When you're a musician, you agree to live in the public eye. For female musicians, apparently, that means becoming public property.
During a recent interview on the radio station Hot 97, Australian rapper Iggy Azalea mentioned that she had to stop crowdsurfing because too many people were fingering her. "I will get lurk tweets for like a week before my show, like 'I'm about to go to the Iggy Azalea show and I'm going to finger her,' and I'll see it and be like, please don't! That's a violation. I don't actually like that stuff." She explained that the threat of being sexually assaulted is so extreme that, in order to perform, she needs barriers between her and her audience. She regularly wears two pairs of underwear and tights under her clothes.
Unlike basically every male musician, Azalea isn't considered as an artist but, rather, a sex symbol who happens to make music: "Like, they think I'm real slutty, like 'Oh, she got a song called 'Pussy,' I know what she wants. She wants these two fingers.' Why would I want a stranger to ever finger me? Buying my album for $12 doesn't mean you get to finger me when I come to your city."
While it happens to both genders — Danny Brown received fellatio during one of his shows last year — women deal with the brunt of these abhorrent sexual violations, and it only shows that we don't think of female musicians as actual artists. Female artists, on and off stage, are constantly catcalled, ridiculed or worse. And thanks to the digital age, this misogynistic behavior has bled over into the virtual world.
Last year, Chvrches' Lauren Mayberry wrote an article for the Guardian in which she voiced her frustration with online sexual harassment. She explained that she receives countless sexist comments via Facebook that range from being annoying to downright threatening. You can say, "Don't feed the trolls," but these messages shouldn't be taken lightly. As Mayberry stated, "Is the casual objectification of women so commonplace that we should all just suck it up, roll over and accept defeat? I hope not. Objectification, whatever its form, is not something anyone should have to 'just deal with.'"
But the problem here is much bigger than specific instances of sexual assault. We don't consider female artists as having any creative agency — there's a way they need to be, to look, to sound. Sky Ferreira took to Facebook to address similar issues. "I'm exhausted of (more than some) people telling me how I should look or be if I want to be a 'pop star' & how they think it's okay to say vile & (sexually) abusive shit to me on a daily basis over the Internet," she wrote. "I'm not only writing about myself … because almost every person has to deal with this."
Consistently, female artists are considered as models for the industry's making and the public's enjoyment. Canadian synth-pop artist Grimes wrote on Tumblr, "I don't want to be molested at shows or on the street by people who perceive me as an object that exists for their personal satisfaction." Is that really asking for too much?
There is only so much "shaking it off" a woman can do before it's time for things to change. A woman's role in the music industry is full of contradictions. We want female artists to be sexual, but we say they're bad role models when they show some skin. Female musicians should be fabulous but not too empowered or "bossed up" because that makes them bitchy. We want infantilized singers and sex goddesses. We like them beautiful, seemingly obtainable, but not too "slutty." If they are, then they become common goods — you know, the kind of woman who wants to be fingered while crowdsurfing. It's time for our culture to start taking female musicians seriously as artists first, women second and mere sex objects never.