The Bearded Pop Star Who Just Won Eurovision Is Challenging Europe's Views of Homosexuality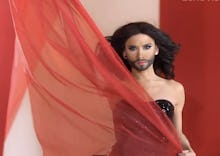 Update (5/11/2014): Conchita Wurst won the 2014 Eurovision Song Contest on Saturday night with a song titled "Rise Like a Phoenix." Wurst said after the victory, "this night is dedicated to everyone who believes in a future of peace and freedom ... we are unity and we are unstoppable."
With eyelashes that would put the Kardashians to shame, an envious model's strut and a full beard, Conchita Wurst is not your typical European singing contestant. But the striking drag queen is nonetheless hoping to take that fierce profile global, representing Austria in Europe's popular singing competition Eurovision Song Contest. What's more, she could very well win.
The annual Eurovision Song Contest, which has helped launch the careers of such big names as ABBA and Celine Dion, includes contestants from 37 countries across the continent. While the program enjoys a large gay following, Wurst's success in the competition (singing a rousing version of power ballad "Rise Like a Phoenix") is highlighting current tensions in the region surrounding homosexuality.
The 25-year-old performer, whose real name is Tom Neuwirth, has so far sparked protests from Russians, Armenians and Belarussians, some of whom are even calling for the performance to be banned, according to the Independent. 
In interviews, Neuwirth has noted the difficulties of growing up gay in a small mountain town in Austria. His alter ego's success in the contest is proof, however, of Austria's continuing evolution on LGBT equality issues.
"For me the most special and honoring thing is that Austria shows tolerance and acceptance and I'm so happy to be this statement," Wurst's Eurovision bio states. "I'm allowed to be the voice of their beliefs during this time and this really makes me very proud. We, and not at least myself, want to stand for a society without hate and discrimination. And if I'm honest, I think everyone of the contestants should stand for the same, cause we are joining a very open minded project, so they should be open minded too."
And what about that gorgeous, gender-fluid look?
"The beard is a statement to say that you can achieve anything, no matter who you are or how you look," Wurst told Reuters.
Wurst will perform in the show's second semifinal on May 8, with the chance to advance to the grand finale two days later. Despite current controversy surrounding the singer's LGBT-friendly message, this is not the first time a contestant has used the high-wattage (and often quite campy) Eurovision stage to take a stand for equality. 
Finnish entrant Kristia Siegfrids kissed a female dancer during her rendition of "Marry Me" last year — an overt protest to Finland's gay marriage ban. Meanwhile, a transgender contestant from Israel, Dana, actually won the competition outright in 1998 performing "Diva."