The 13 Best Cities for LGBT 20-Somethings That Aren't New York or San Francisco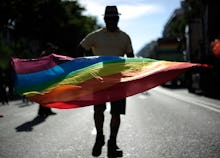 LGBT best city lists are often pretty predictable: New York, San Francisco, London, Paris, Berlin, Provincetown ... you know the drill. Unfortunately, lists that continue to look only to these obvious strongholds miss out on a growing number of other equally exciting and progressive locations ideal for young people in the LGBT community.
To cull our own list of slightly more under-the-radar cities for LGBT urban dwellers, we took a number of factors into consideration: legal protection, social acceptance, LGBT nightlife and economic opportunities (jobs are key). From there we created this list of overlooked cities around the world perfect for the young, queer and ambitious. Pack your bags — it's time to move.
1. São Paulo, Brazil
The culture of acceptance towards LGBT people in São Paulo has skyrocketed in recent years, a fact highlighted by the participation uptick in the city's annual pride events. The first, held in 1997, had about 2,000 people in attendance. In 2006? São Paulo set the Guinness World Record for the largest gay pride parade in the world: 3 million people (and it's getting bigger every year).
Additionally, the seventh most populated city on Earth, boasts a thriving LGBT nightlife, a nice complement to the fact that gay marriage was legalized in 2013. The city isn't cheap, but it serves as the economic exchange capital of South America. The Atlantic Cities ranked it 26th on the list of global "cities that offer the most opportunity" with respect to economic gain. 
2. Tel Aviv, Israel
Tel Aviv is a major party city with a booming tech enterprise and it's easily the most LGBT-accepting country in the Middle East. While same-sex marriage isn't legal in Israel, the state does recognize same-sex marriages performed outside national borders and allows the partners of Israeli citizens to gain permits for residency. Also, same-sex couples are afforded the same rights and benefits extended to common-law married couples.
The city has an incredible history, great beaches and a vibrant LGBT nightlife featuring an annual pride parade held in June. In Parade, Yael Karov, the CEO of Ginger Software, claims Israel is "the 'Startup Nation,' … second only to Silicon Valley in terms of startup density." 
3. Stockholm, Sweden
Stockholm isn't a huge city, but it goes above and beyond as a progressive center for LGBT rights. Every July, Stockholm hosts a pride festival and while Sweden's official travel website explains that there is "no center of gay life in Stockholm," that has a lot to do with the fact that the city is spread over 14 different islands and gay/gay-friendly clubs and bars are integrated on all of them.
In 2012 PricewaterhouseCoopers and the Partnership for New York City ranked Stockholm fifth in its overall rankings for cities with the most opportunities. In the same report, Stockholm ranked first in the categories of "intellectual capital and innovation," as well as "health, safety and security." 
4. Amsterdam, The Netherlands
Amsterdam has always led the pack regarding LGBT activism in both government legislation and social policy. In 2001 the Netherlands became the first country to legalize same-sex marriage, so it should come as no surprise that Amsterdam is incredibly accepting of the LGBT community. Since 1996 Amsterdam has hosted an annual pride festival and the city's nightlife is notoriously raucous.
As the city notes on its official travel site, "Amsterdam could be considered the birthplace of LGBT rights. Homosexuality was decriminalized here in 1811, and the first gay bar followed in 1927." It's also a center for innovation and entrepreneurship. The Innovation Cities Program conducted a global study to determine cities that retained a "global innovation economy" in spite of a precarious economic climate and found that Amsterdam ranked third worldwide. 
5. Toronto, Canada
Ignoring for just a moment that Rob Ford is the current mayor of Toronto, it's a truly great city to live in. Canada legalized same-sex marriage in 2005, becoming the fourth country in the world to do so. The nation is at the forefront of progressive change ensuring legal protections against discrimination for LGBT persons, allowing adoption, military service and the right to legally change one's gender. While there are certainly "gayborhoods" in Toronto, the city as a whole is very open-minded and many businesses catering to or owned by LGBT people are integrated throughout the city.
Plus it's a great place to work and find work. On the 2014 Scorecard on Prosperity, Toronto ranked third for "labor attractiveness and economic performance," up from sixth place in 2013. So, Rob Ford… keep it up? 
6. New Orleans, Louisiana
One of the best-kept American secrets is that NOLA is super queer. It's filled with young people, it's affordable and there are no open container laws. Autostraddle claims NOLA has "a thriving young queer and trans population, and the African-American LGBT community may be one of the largest in the U.S." While they don't have their own Pride events yet, you can legally throw a parade with a license at any time, so who's to say Pride isn't every day? Plus there are plenty of gay clubs and bars throughout the city.
Employment wise, NOLA has a pretty long brag sheet, including taking the No. 2 spot on Forbes' Best City for a Job list. Same-sex marriage isn't legal, but there are plenty of organizations in Louisiana working to change that, so laissez les bons temps rouler. 
7. Sydney, Australia
While same-sex marriage is still illegal in Australia, it's often considered one of the most gay-friendly places in the world. Sydney is home to a number of gay-friendly beaches and wild nightlife spots catering to the LGBT community. Its world-renowned Gay and Lesbian Mardi Gras takes place annually, drawing enormous crowds and big sponsors.
Studies have found that in metropolitan areas, LGBT people are accepted by a wide majority gap, while in many rural areas there's still a ways to go. In the PricewaterhouseCoopers and the Partnership for New York City report on cities that offer the most opportunities, Sydney ranked 11th globally and it's often cited as a great place for entrepreneurs to start a business and young people to kickstart a career.  
8. Seattle, Washington
Seattle is not just Starbucks and rain. It's one of the most progressive cities (in one of the most progressive states) in America and same-sex marriage was legalized in Washington in 2012. During the last weekend of June, Seattle holds its annual Pride Parade, which draws well over 50,000 people.
Much like other major metropolitan areas, Seattle has a strong LGBT nightlife. Looking at jobs, the city is a win as well. Forbes ranked Seattle fifth on their top 10 list in 2013 for "Best Cities for Good Jobs." U.S. News and World Report echoed this, putting Seattle in sixth place for the "Best Cities to Find Jobs." Their football team is also pretty good, according to this year's Super Bowl, if you're into that. 
9. Mexico City, Mexico
Mexico City, a metropolitan capital home to 20 million people, is way queerer than you might think. The city legalized same-sex marriage in 2009, trans* people have the legal right to change their gender on government documents and queer couples can adopt children together. It hosts one of the largest Pride parades in the Americas and the tide of public opinion regarding homosexuality has drastically shifted towards acceptance.
With more than 700 years of culture and history to explore, you'll still need to find time to party it up in LGBT hotspot areas like the Zona Rosa district and the Centro Histórico. In the PricewaterhouseCoopers and the Partnership for New York City report, Mexico City ranked 21st worldwide in global cities with the most opportunities for its inhabitants.  
10. Buenos Aires, Argentina
Many gay and lesbian travel websites compare Buenos Aires to a similarly sized European or North American cities with great LGBT scenes. In 2010 Argentina became the first country in Latin America to legalize same-sex marriage and the second country in the Americas to do so. Senators approved the "Gender Identity Law" unanimously in 2012, which requires that hormone therapy and sex reassignment surgery is free under both public and private health care plans. There are not, however, any laws forbidding discrimination against LGBT people that have passed on the national level.
Looking to career options, Fast Company writes that "Buenos Aires is a culturally vibrant, creative, entrepreneurial city." As for what time to go out? Don't expect things to pick up until midnight at the very least. 
11. Tokyo, Japan
While same-sex marriage may not be legal in Tokyo, that fact does not accurately reflect the climate of the city's LGBT culture. In Japan social norms trump legislation and culturally, homosexuality is neither explicitly forbidden nor encouraged, so the community exists without much hostility. There are, however, some institutional protections in place. Trans* people can legally change their gender after reassignment surgery as of 2008 and many activists in Japan consider it a big step that same-sex Japanese nationals can marry in foreign states.
Tokyo is one of the gay capitals of Asia, with a booming nightlife, an annual Pride festival and the Tokyo Lesbian and Gay Film Festival every June. For job seekers, this is a famously career-focused culture, and the PricewaterhouseCoopers report ranked Tokyo 10th in cities offering the greatest opportunities to those who live and work there. 
12. Barcelona, Spain
Same-sex marriage has been legal in Spain since 2005, anti-discrimination laws are in place to protect LGBT persons in both the workplace and the marketplace and trans* people can legally change their gender. 
There are seemingly hundreds if not thousands of places to go out for LGBT people in the city, including hundreds dedicated to LGBT nightlife alone, including everything from niche gatherings to foam parties. It is one of the crown jewels of LGBT-friendly cities, particularly for 20-somethings seeking a place that's relaxed, hard-working and knows how to have fun, all at the same time. 
13. Austin, Texas
"Keep Austin Weird," is the unofficially official slogan for Austin, Texas. Austin is a strange oasis at the center of a red state, with a young, active and diverse queer community. The city hosts great music festivals (SXSW, ACL) and has top-notch food (Tex-Mex!), along with a far more liberal-leaning population than its metropolitan neighbors. More great news? Austin ranks first in Forbes for job seekers in 2014. So while same-sex marriage is still not legal in the state, the city is affordable, there's no state income tax and with its booming economy and vibrant queer culture, it's simply impossible not to have Austin on the list. 
Of course, there are always going to be awesome places that don't make the cut on lists like these. In the spirit of widening the cultural discourse around LGBT-friendly places for 20-somethings, make sure to put those cities you believe fit the criteria in the comments below.