8 Musicians Who Are Secretly Great Novelists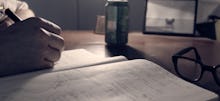 A great song packs a novel's worth of emotion into three minutes. But when truly talented songwriters turn to novels, something special happens.
For less talented songwriters, the results can be disastrous (see: any novel by Jimmy Buffett). But musicians are our generation's true storytellers, and some of them have given the world amazing books that have gone unnoticed for too long. 
Here are eight musicians whose novels only serve to prove that music is a storytelling art:
1. Josh Ritter, 'Bright's Passage'
Image credit: Dial Press Trade Paperback
"Mud and water and the stumps of trees. In every direction that was all there was. Bodies fell, but the trees died standing up."
Fans of Josh Ritter already know of his penchant for literature. His 2010 album So Runs the World Away takes its name from Hamlet, and his songs often veer toward poetic, character-driven narratives that wax existential while maintaining humor and feeling (see: the heartbroken mummy in "The Curse").
Ritter's decision to channel his gift for storytelling into a full-length debut novel was only natural. Bright's Passage, favorably reviewed by Stephen King, follows the journey of a troubled World War I veteran haunted by inexplicable voices upon returning home from battle. Like Ritter's music, Bright's Passage amuses while it emotes, with characters you'll be glad exist outside the confines of a song.
2. Steve Earle, 'I'll Never Get Out of This World Alive'
Image Credit: Mariner Books
"Lonely's a temporary condition, a cloud that blocks out the sun for a spell and then makes the sunshine seem even brighter after it travels along."
Legendary country musician Steve Earle is known for twangy tales of deadbeats and degenerates. His debut novel, I'll Never Get Out of This World Alive, shows that no matter the form, he's still the foremost documentarian of the downtrodden and the debauched. 
Taking its name from a Hank Williams song, the novel follows an unscrupulous abortionist, haunted by Williams' ghost, on a mystical journey through the back alleys of San Antonio. Though anything from Earle's catalog would serve as a fitting soundtrack, he released an album of the same name in tandem with the novel, which is sure to enhance your reading experience.
3. Leonard Cohen, 'Beautiful Losers'
Image Credit: Vintage
"How can I begin anything new with all of yesterday in me?"
Perhaps best known for his 1984 song "Hallelujah" (and all its various incarnations), Cohen has built a career on songs that find the intersection of sex and spirituality.
That his second (and final) novel, Beautiful Losers, would explore those themes was only natural. A complex, experimental novel replete with symbolism and mysticism, Beautiful Losers features a cast of lovelorn characters that would be at home in any of Cohen's songs. In this book, though, they breathe like never before.
4. Nick Cave, 'The Death of Bunny Munro'
Image Credit: Faber & Faber
"'I just found this world a hard place to be good in,' says Bunny, then he closes his eyes and, with an expiration of breath, goes still."
Musically, Nick Cave often draws comparisons to similarly gravel-voiced crooners Leonard Cohen and Tom Waits. His novels, though, differ vastly from Cohen's in both substance and style. He tackles modern-day neuroses with the kind of straightforward narrative seldom seen in Cohen's oeuvre; his books are gripping and touching.
Cave's second novel, The Death of Bunny Munro, follows Bunny, a sleazy cosmetics salesman, and his 9-year-old son on a disturbing, often humorous journey around England. The apocalyptic doom and gloom of the story is reminiscent of Cave's music, which, should the book be optioned for film, would provide the perfect soundtrack.
5. Willy Vlautin, 'The Free'
Image Credit: Harper Perennial
Willy Vlautin is actually better known for his literary pursuits than his musical ones. Lead singer and songwriter of Oregon band Richmond Fontaine, Vlautin first found literary success with his debut novel The Motel Life, a critically acclaimed effort that was later adapted to film.
His latest offering, The Free, a deeply empathic portrait of the life of American veterans, has found fans in literary heavy-hitters like Ann Patchett and Cheryl Strayed. Often basing his novels on characters from his songs, Vlautin writes spare, lyrical prose that manages to break your heart while also healing it.
6. Patti Smith, 'Babel'
Image credit: G. P. Putnam's Sons
"memory is just hips that swing / like a clock / the past projects fantastic scenes / tic/toc tic/toc tic/toc / fuck the clock!"
Babel is a stirring anthology of poetry, prose and drawings that can and should be read start to finish. Published in 1978, Babel is Smith's fifth book and contains several of her more well-known works, including poems that appeared as songs on Easter and Wave.
Patti Smith is music's poet laureate, and Babel is proof that her lyrics actually are poetry; her songs, rich stories.
7. Gil Scott-Heron, 'The Vulture'
Image credit: Canongate UK
"There's something about Friday night that reminds me of a starter's pistol. It seems to release everybody from their week-long hangups."
An accomplished musician, poet and author, Godfather of Rap Gil Scott-Heron's talents seemingly knew no bounds. His works distilled timely social commentary into jazz, soul and spoken word that influenced musicians and thinkers alike.
On the surface, Scott-Heron's first novel, The Vulture, is a Harlem noir mystery told in interlocking narratives. As with all of Scott-Heron's projects, though, The Vulture's page-turning plot is underscored by racial politics and class struggle, educating as it entertains. 
8. Colin Meloy, 'Wildwood'
Image Credit: Balzer + Bray
"We are the inheritors of a wonderful world, a beautiful world, full of life and mystery, goodness and pain. But likewise are we the children of an indifferent universe. We break our own hearts imposing our moral order on what is, by nature, a wide web of chaos."
Decemberists frontman Colin Meloy has never been shy about his bookishness. Look no further than the band's Infinite Jest-themed music video for "Calamity Song."
Though geared at young adults, Meloy's first novel, Wildwood, still retains the cerebral whimsy fans have grown to expect from his band. And if the story of two teens trekking through a magical Oregon forest isn't enough (think Harry Potter meets Portlandia), the illustrations by Meloy's wife Carson Ellis make Wildwood a beautiful read for all ages.