The Stories Behind These Striking Photos Show Club Kids Are More Than Just Pretty Faces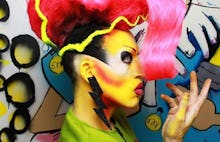 After years of living in the shadows, the club kids scene is in the headlines, following the announcement that renowned club kid Michael Alig is finally being released from prison. Alig served 17 years in prison for a grisly murder committed in the 1990s. 
Back in the '80s and '90s, the peak of the club kid era, infamous club kids like James St. James lurked in the streets of Manhattan, leaving behind the remnants of fabulous parties. While the scene may not be at the dizzying heights it once was, it's far from dead. In fact, one could argue it's thriving, brought back to life by a new generation of kids and bold performers like Maddelyn Hatter and Muffinhead. Some of the old legends, like nightlife promoter Susanne Bartsch, are also still around, decades after they made their names throwing opulent bashes attended by a young Marc Jacobs and Malcolm Forbes.
Gay, straight or undecided, modern club kids are artists and dreamers. They are the ones who create their own realities rather than accept someone else's. The following are some of the amazing new talents who have flocked to New York City to create their inspired looks, rising to fame one all-night party at a time.
1. Ryan Burke
In the beating heart of New York City's nightlife scene, a rising makeup artist from Virgina is turning heads. Ryan Burke has turned dreamlike creations into reality, creating one-of-a-kind characters that make the Hunger Games Capitol Couture look like a children's art project. 
"I'm inspired by natural modern elements used in abstract and fashionable ways," Burke told PolicyMic. "I have poor eyesight and I don't like to wear glasses, so I often see ideas in a blur of shapes when I'm walking around. I usually collect materials that I think would work well together, and I just start creating headpieces like organizing a bouquet. It's all about balance of color and shape, not necessarily a clear design pattern. The same goes with makeup: It just happens in the moment."
2. Domonique Echeverria
A San Francisco native, Echeverria is a fashion designer who collaborated with Andrea Mary Marshall for an installation at Bergdorf Goodman during Fashion Week. Breaking stereotypically thin beauty standards, Echeverria was also recently featured on Style's website for a Givenchy editorial, and has no qualms about showing a little (or a lot) of skin. She will host for Susanne Bartsch at the Life Ball in Vienna later this month, and will also be a living art installation there.
"My aesthetic is a combination of powerful female energies from different cultures," Echeverria told PolicyMic. "Spanish gypsies and flamenco dancers, Yemeni brides, witches, drag queens, goddesses from far-off lands. I'm an old soul who combines all of my lifetimes into one. Like the drag queens I grew up around, I too am an exaggeration and an interpretation of a woman."
3. William Noguchi
A part of the House of Fields, Noguchi is a visual manager at the Patricia Fields store. Noguchi's androgynous aesthetic pierces today's societal binary gendering, while his extravagant, bejeweled look has branded him as a nightlife princess.
"I would say my style comes from blending historical figures like Queen Elizabeth I and Leigh Bowery together to create a look that could go anywhere from sporty glamor to bondage schoolgirl," Noguchi told PolicyMic. "Mixing different points of inspiration and combing styles from various time periods is a great formula for inventing new style tricks for yourself to play with. Once I learned how to do this, I was really able to own my style and make it my own."
4. Kayvon Zand
A performance artist, Kayvon Zand often integrates provocative performances into the choreography of his dark pop hits. Working with fashion photographers like Mike Ruiz and DJ Chew Fu, Zand also recently released a mini-movie, "One Way Flight." With his entourage, known as the Zand Collective, Zand is making waves in the fashion and music industries as well. 
In an interview with the Huffington Post last year, Zand noted that it's hard to separate where style ends and human begins. "Gradually more people are becoming aware of me, and the message is becoming clearly that I'm my own 'art form,' that I'm an extension of my art," Zand said. 
"Nightlife is an opportunity to share your kingdom where you shine and share your universe," Zand told PolicyMic. "Club land is vital, as it balances the social restraints and prejudices we face in society. It's an opportunity to let our hair down — or up, in my case!"
5. Acid Betty
Acid Betty is an artist, stylist and performer who has created a unique hybrid of drag. A nightlife fixture, Acid Betty's out-of-this world looks are reminiscent of what a future, post-gendered society might look like. The recent creation of Haus of Acid, meanwhile, proves that the world will be hearing a lot more from this queen's Revolution of Acid.
"I don't think club kid culture is as important as the underground scene in which they play," Acid Betty told PolicyMic. "The underground scene in New York was a place to let go, be free and even be whoever you wanted to be for the night. But more importantly, it's a place where artists, deviants, queers and freaks get together and express and share ideas in hopes of finding a middle ground; like-minded people or an adopted family. For me personally, I would not have come to terms with my sexuality or [been] comfortable in my own skin if I didn't have the underground to play in."
6. The Dairy Queens
Milk, Yoohoo and Skim Burley are gender-bending drag queens with a knack for dairy puns and high-larious innuendos. Cheesy as they may be, these queens have found comedy gold in the most unique venue: the dairy aisle. Milk was recently cut from RuPaul's Drag Race, where the club kid representative kept a neverending supply of puns at the ready. 
"The ability to transform into any character was what intrigued me about drag," Milk told the Advocate. "My name came from a powwow at Cheesecake Factory: Milk, for my white, creamy skin. I wanted a one-name like Yahweh or Beelzebub. Also, Milk has a lot of puns surrounding it, so I knew it would be perfect for Drag Race!"
7. Daughters of Devotion
With an emphasis on latex, lace and lingerie, the Daughters of Devotion are known for appearing as mirror images of each other. The bombshell ladies' twin-like creations are simultaneously creepy and sexual, and were also recently featured in rapper Brooke Candy's "Opulence" music video.
"As far as I see, [the club kid scene has] always been alive, thriving and at the heart of NYC," Daughters of Devotion told PolicyMic. "This is where the young and hungry come to create and live to the fullest. Nightlife is a place of release for some and a place where some rise to fame, and it gives them a platform to become famous. The children of the night will never die. And we're just so honored to work with some of the stars who started it all, alongside the young and shiny who bring new energy and reenergize the scene. KEEP IT WEIRD NYC!"
8. Darrell Thorne
Also featured in Brooke Candy's "Opulence" music video, Darrell Thorne, who travels all over the world to perform, has created some of the most intricately detailed looks in the scene. The "Opulence" video included two of Thorne's one-of-a-kind headpieces. Darrell's aesthetic employs a godlike attention to detail. 
9. Muffinhead
Muffinhead is a "performance absurdist and hyper-surreal cartoon" who has curated numerous art shows and has performed at Vienna's Life Ball. With an aesthetic that combines Willy Wonka with the Teletubbies, Muffinhead's chaotic creations can be seen in New York art galleries, events and in club kid nightlife itself.
10. Maddelyn Hatter
Not your typical drag queen, Maddelyn Hatter creates sinful looks that are more characters from comic books than your mainstream female-impersonating drag.
11. Dylan Monroe
Kayvon Zand's brother Dylan Monroe has dazzled the nightlife scene in his own right as an eye-catching part of the Zand Collective. Monroe's long legs and statuesque frame make us question if gender even exists. He is both masculine and feminine, with scandalously stunning looks typically attired all in black. Dylan can usually be found at a VIP table at the appropriately named "Chic Freak" party, held at notorious New York nightclub The Box. 
"What inspires me the most is when people I love tell me 'no' because they're trying to protect me," Monroe told PolicyMic. "On my own, I can do anything. My 'looks' are inspired by the parts of myself society has tried to force me to hide."