George Clooney's Fiancée Is a Human Rights All Star – And She Should Speak Up on Bahrain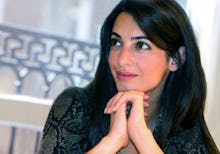 It looks like George Clooney, the man famed for being a confirmed bachelor, will be marrying hot shot human rights lawyer Amal Alamuddin. 
It's the stuff that romantic comedies are made of: A hunky Hollywood playboy with a long list of ex-girlfriends finally decides to settle down after a whirlwind courtship with a brainy, accomplished and beautiful human rights lawyer.
News of the engagment has, of course, meant a dig into Alamuddin's past and the 36-year-old's long list of impressive accomplishments that make it clear that Clooney is the one that's marrying up: She graduated from Oxford, has a law degree from NYU and worked on some high profile human rights cases, including those of controversial Wikileaks founder Julian Assange and former Ukrainian Prime Minister Yulia Tymoshenko.
But there's one potential spot on her human rights record: Alamuddin served as a legal adviser to Bahrain's King Hamad bin Isa Al Khalifa back in 2011, when the government commissioned an inquiry into human rights abuses following a violent crackdown on popular protests that first began on February 14 of that year, called the Bahrain Independent Commission of Inquiry (BICI).
Since then, it's become clear that the BICI, and its subsequent report, were used to whitewash the country's human rights situation. According to the Bahrain Center for Human Rights, 95 people have been killed by security forces since the start of unrest and more than 30 of those have happened since the report's release. 
The country still sees clashes between security forces and protesters, and the question of torture, as documented in the government BICI report, has yet to be adequately addressed according to Human Rights Watch. In fact, according to Americans for Democracy and Human Rights in Bahrain, none of the report's 176 recommendations have been fully implemented. 
Alamuddin is no longer a legal adviser to Bahrain's king, but she co-authored a book arguing for an Arab Court for Human Rights, which will be based in Bahrain — a move that is certainly eyebrow-raising, given the country's human rights record.
According to pro-government newspaper Gulf Daily News, Alamuddin was part of a training program in Bahrain to "help professionals in Bahrain's judicial system achieve international standards in human rights law." 
Those are the very same courts that have yet to offer concrete justice for victims of human rights abuses. According to a Human Rights Watch report released in 2012, entitled "No Justice in Bahrain," "grossly unfair military and civilian trials have been a core element in Bahrain's crackdown on pro-democracy protests."
Alamuddin has the ear of the Bahraini government, as well as the eyes of the world. She's been working on serious human rights issues in Syria, as well as on drones. Perhaps it is time for her to press Bahrain to take its human rights violations seriously too.