How Children Are Paying the Price of South Sudan's Brutal Civil War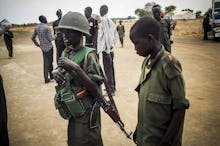 When it came down to it, it was about surviving, said Ger Duany.
A former "child of war" in Sudan's second civil war, Duany recently described how, after running from Sudanese forces and fleeing his country on foot, he and other children jumped at the opportunity to attend government-endorsed schools in Ethiopia and Kenya, only to find themselves instead taken to military training camps.
There's a history of recruiting child soldiers in Sudan and South Sudan and now the UN has released a count of just how many children it believes are currently fighting in the South Sudanese conflict.
In a statement on Wednesday, UN High Commissioner for Human Rights Navi Pillay said more than 9,000 children were serving as soldiers, recruited by both the rebels and the government.
The recruitment of child soldiers is a byproduct of brutal wars; the circumstances both caused and exacerbated by the ongoing conflict drive children to fight in the troops that ultimately sustain the country's turmoil.
Since fighting began in December, between 900,000 and 1 million people have been displaced, an estimated 40% of whom are children. The conflict has put a tremendous strain on humanitarian efforts within the country and UN leaders are warning of famine.
UN representatives have called for a pause in fighting to focus on peace talks underway in Ethiopia and to allow South Sudanese to plant fields to help address food shortages. Leaders, Pillay said, were "lukewarm" to the suggestion.
Isolated by the death of loved ones, trauma, displacement and hunger, children sometimes seek and are offered refuge within military camps.
Though this is the first time the UN has released an estimate of how many children are fighting in the South Sudan conflict, the body has suspected both the rebels and the South Sudanese government of recruiting children, an act considered a war crime by the International Criminal Court.
In the current conflict between Sudan and young nation South Sudan, child soldiers are even used to destroy places of refuge for the internally displaced. Armed youth were reported in the rebel attack on a UN Mission base in April which killed 58, including some children.
"These attacks and violations not only leave a permanent scar on these children, but they also affect their overall sense of safety and security, especially when places that they go to in desperation, and are designated as safe places of shelter, also become places of attacks," said Leila Zerrougui, special representative of the UN Secretary-General for children and armed conflict.
The shocking number of child soldiers isn't about geography or culture – it's a testament to the brutal costs of war.