The 9 Countries You Should Blame When the World Gets Devastated by Climate Change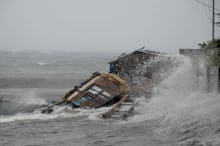 "What my country is going through as a result of this extreme climate event is madness."
Those were the words of Seb Yano, the Philippines' climate change representative, whose tearful plea went viral shortly after Typhoon Haiyan devastated his country last November, leaving thousands dead, including Yano's own relatives. 
"Science tells us that, simply, climate change will mean more intense tropical storms," he said. "As the Earth warms up, that would include the oceans. The energy that is stored in the waters off the Philippines will increase the intensity of typhoons, and the trend we now see is that more destructive storms will be the new norm."
His warning is one that we've perhaps learned to ignore, even as tragedies like Haiyan continue to rock countries around the world. It's a broken record that we can't afford to ignore anymore.
According to veteran climate-talks expert Alden Meyer of the Union of Concerned Scientists, world leaders and policymakers are "doing nowhere near enough to curb emissions," despite report after report documents of evidence and statistics of an increasingly stark future for our planet. 
This problem that can't be tackled by one country on its own, which means that Typhoon Haiyan and the tragedies that are bound to follow are a testament to the entire world's failure to address climate change.
That means that when the world's worst offenders on CO2 emissions don't make substantial steps towards reducing them, it's not just their own citizens paying the price: It means a long list of devastating consequences, like the potential to devastate the food supply, lead to further food insecurity, mass migration and civil conflict.
Some countries are taking a headstrong approach to dealing with the issue: For instance, it seems that climate change might be the one issue that brings the United States and Russia together. In the U.S., the "debate" is still stuck on whether or not climate change is actually even happening, and back in 2010 Russian leader Vladimir Putin also pondered whether or not climate change is man-made or simply yet another phase in the Earth's existence.
When some think that cooling relations between Moscow and Washington have a thing or two to do with a race for natural resources, it puts the countries' stalled debates into perspective. 
As long as climate change remains a low priority for world leaders, it will continue to affect the lives of millions of people through weather disasters and human devastation across the globe, particularly the most vulnerable developing countries, many of whom who aren't even responsible for these staggering carbon emissions.
Image Credit: The Atlantic Cities/visualizing.org
We took a closer look at the world's top polluting countries and emitters of CO2, according to the U.S. Energy Information Administration, and the "promises" they have kept and broken to deal with an issue that continues to affect people the world over:
1. China
China has been the world's biggest emitter of carbon dioxide from fuel use since about 2006, when it passed the United States, and has topped the list ever since. It emitted 8.3 billion tons of CO2 in 2010, a 240% increase in emissions since 1992. Experts have warned that the country's toxic air is so bad that it resembles a nuclear winter. 
Due to the country's rapid industrialization, growth in car ownership and reliance on coal power, air pollution has become a severe problem in China. Although the Asian giant has long been pressured to deal with its air pollution problem, significant action has been patchy. 
Xie Zhenhua, China's chief climate negotiator, said air pollution "choking China's cities" have made it "a must" for Beijing to build a greener economy, regardless of pressure from other countries. China and the U.S. have already begun talks for carbon-cutting goals as world leaders hope to seal a global climate deal next year in Paris.
2. United States
The United States snags silver in this list of top polluting countries, with 5.6 billion metric tons of CO2 emitted in 2010. Although emissions reached a 20-year low in 2012, with just under 5.2 billion metric tons in 2012, new figures in 2013 showed a 2% jump due to higher natural gas prices last year, which prompted a switch to another energy source: coal. 
According to the World Resources Institute, the U.S. is responsible for about 30% of cumulative carbon dioxide emissions since 1850. Although recent U.S.-China climate talks have been touted as the one of the most promising developments in recent years, it is still a steep climb for a country whose much-needed action on the matter has been frustratingly slow so far, considering the fact that some politicians are still debating whether climate change is real. 
3. India
Business in the four "BRIC" countries (Brazil, Russia, India and China) is booming, but in the global economic race, this South Asian country's rapidly expanding economy and "gluttonous appetite for coal" have failed to account for pollution control and regulation, placing the country at No. 3. In 2010 India was responsible for emitting 1.6 billion metric tons of CO2, a 157% increase in emissions since 1992. 
Experts say India is particularly vulnerable to climate change and is one of the most disaster-prone nations in the world, with many of its 1.2 billion people living in areas vulnerable to floods, droughts and cyclones and a significant chunk of its population still living in poverty. 
Despite these stark dangers, Indian officials refuse to budge from their stance during climate talks. They argue that cutting emissions would hurt the country's efforts to lift millions of people out of poverty and that developed countries should be legally committed to addressing global warming and reducing their own emissions, while developing countries will do what they can to do the same.
4. Russia
Although Russia's emissions plunged after the collapse of "Soviet-era smokestack industries" to about 1.6 billion tons in 2010, the country is still the fourth-largest emitter of CO2 in the world. 
Russian officials are dragging their feet on climate change despite the fact that hundreds of Russian cities, including Moscow, St. Petersburg and Norilsk, still exceed pollution limits.
''Ten thousand years ago, the mammoths started to die out," Russian President Vladimir Putin said in 2010. "This was linked to a warming of the climate, a rise in sea levels, a reduction of pastures. All this happened without human influence." In 2003 Putin even speculated that global warming by "two or three degrees" could be a good thing for Russia in terms of heating costs and rise in agricultural production.
5. Japan
As the world's fifth-highest emitter of CO2, Japan committed to reducing its emissions by 6% below their 1990 levels under the Kyoto Protocol between 2005 to 2009, and by 25% by 2020.
However, the Fukushima disaster in 2011 resulted in a shift back to coal, oil and gas for power. Japan also scaled back its ambitious target to 3.8 percent, an adjustment that disappointed many and was seen as a setback for efforts to reach a new global climate agreement in 2015. 
6. Germany
Following the Japanese tsunami and Fukushima incident in 2011, German Chancellor Angela Merkel announced that Germany would phase out nuclear energy by 2022 as part of an energy turnaround, or "Energiewende." 
Under the Renewable Energy Law, the government created an aggressive program to reduce fossil fuels and invest in green energy sources, particularly solar and wind.
"We believe that we can show those countries who decide to abandon nuclear power — or not to start using it — how it is possible to achieve growth, creating jobs and economic prosperity while shifting the energy supply toward renewable energies," Merkel said. 
However, despite the country's ambitious decision to shift to renewable solar and wind energies, the rise in electricity prices amid a recession pushed Germany into increased use of oil and coal power plants, resulting in an increase in CO2 emissions. 
7. South Korea
Although South Korea is the world's seventh-largest emitter of CO2, the country has launched one of the world's most ambitious carbon-trading markets in a bid to cut emissions by 30% by 2020.
"Politically, South Korea has shown that it is eager to be seen as a leader in the development of global climate change policy, so it has taken on a strong target to justify this," said Bloomberg new energy finance analyst Richard Chatterton.
Under the United Nations' Kyoto Protocol, South Korea was listed as a developing country, which means it technically isn't required to set any targets. Its ambitious attitude and goals addressing climate change, however, are an example of what developed countries should be doing.
8. Iran
Ranking No. 8 on is Iran, whose poor air quality has continued to draw global and regional criticism, particularly during the winter months. According to the World Health Organization, four of the world's top ten most polluted cities are in Iran.
According to city officials, about 270 people die every day due to heart and respiratory diseases, blood cancer and other deadly pollution-related illnesses. The administration has even gone so far as to urge young families to move out of large cities to protect themselves from the toxic air.
"Air pollution is reaching a point where it is noticeable as a social or political demand. If people were crying 'Where is my vote?' in 2009, their demand in 2014 will be, 'Where is my breathable air?'" said one Tehran-based environmentalist. 
In December Iran's environment agency head Massoumeh Ebtekar said, "The former government did not live up to its commitments and responsibilities in upholding fuel and auto standards, and currently none of the gasoline standards are being fully observed." She also assured that the new administration has made the issue a top priority and residents have a "right to live in unpolluted cities."
9. Canada
Currently ranked No. 9, Canada's rising CO2 emissions will likely catapult the country higher up on the list. Due to the country's expanding tar sands projects, carbon emissions are projected to soar 38% by 2030.
According to an investigation in 2013, the country may be underreporting its emissions statistics. Canada has also been criticized for its inability to implement effective policies or slow down the tar sand project expansion. 
Environment Minister Leona Aglukkaq, however, has continued to defend the government's climate record, saying, "Our government is taking action to address climate change. ... We introduced world-leading coal power regulations and harmonized with the United States on vehicle emissions regulations, and we are getting results."
Liz Gallagher, head of the Climate Diplomacy Programme at UK-based NGO E3G, says Canada has become an "outcast amongst its negotiating peers "
"It's a travesty that a prosperous country with such a rich history of international cooperation is now turning its back on the world," said Gallagher.