What Every American Needs to Know About Iraq's Election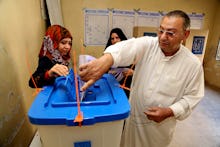 In some ways, it was not unlike many local elections in the United States. For weeks, Iraqis have been inundated by campaign posters, commercials, political talk shows and more.
In some cities, it was hard to look anywhere without seeing the face of a parliamentary hopeful — some whose names will soon disappear, while others will linger. But war-weary Iraqis also face the daily nightmare of suicide and car bombings, where the mere proximity to political offices or police barracks puts them at grave risk.
This is Iraq in 2014.
Two years after the U.S. government withdrew combat troops, citizens went to the polls Wednesday to select a new parliament. Observers in Washington are watching the action with bated breath amid accusations that the United States made a mess of Iraq, then left it to its own demise.
Image Credit: Getty Images. A woman holds up her ink-stained finger from the election during a march organized to mark International Worker's Day.
Voters braved extreme violence to cast their ballots and, ultimately, to play some role in determining their future this week amid increasing sectarian strife and growing tensions between political rivals. Will it make a difference? Most observers believe Prime Minister Nouri al-Maliki will clinch a third term in office but not without months of political wrangling and uncertainty. He has fallen out of favor with many across this vast nation, and a deteriorating security situation has left many fearful that al-Maliki has all but lost control.
Has America forgotten its role in getting Iraq to where it is — for better or for worse?  Iraq may, arguably, need the help of its allies now more than ever. Have we turned our back on it for good?
Regardless of the turnout of this week's vote, it is an important milestone since the U.S.-led invasion in 2003. And yet, much of the mainstream U.S. television media has turned a blind eye. As Iraqi-American journalist Yasmeen Sami Alamiri tweets: "Good God. CNN has covered everything under the sun (w/ non-stop coverage of the Sterling "scandal"), but no decent Iraq election coverage."
Image Credit: Getty Images. An Iraqi woman casts her vote during the elections.
Is Iraq on a better path now that America is gone? It depends who you ask. Some will tell you that they wish America hadn't withdrawn its forces, while others will tell you they long for the days of Saddam Hussein. Perhaps the only certainty today is that for Iraqis, the American combat forces, which for close to a decade occupied their country, are nowhere to be found. Iraqis knew that this day would come, but the regional landscape has left many fearing the worst as extremist groups increasingly shuttle between Iraq and Syria, capitalizing on the breakdown of law and order.
"Many of us are not trying to change policy, but we want to consolidate the current situation of corruption and abuses of public money," said Abu Mariam Al Aazawy, a Baghdad-based journalist who declined to give his real first name due to security concerns. "Speaking and acting are different things. For eight years, Maliki is hanging on to his power from promises alone."
Here's a breakdown of what you need to know about the election:
Al-Maliki is vying for a third term — even though he has failed to deliver on security promises.
Image Credit: AP. Iraq's current Prime Minister, Nouri al-Maliki, votes during yesterday's election.
The man with the most to win or lose in this race is al-Maliki. The new parliament will also choose a new cabinet and a president to replace Jalal Talabani. The Kurdish leader who suffered a stroke in December 2012 has since been receiving medical treatment in Germany. The results could take weeks.
However, like most things in Iraq, the vote (and its aftermath) is not expected to be smooth sailing. No party is expected to win an outright majority, which could lead to a major power struggle and significantly delay the formation of a government. The United States and the UN have urged the political parties to work together for quick formation of government. Veteran foreign correspondent Jane Arraf tweets: "Good Luck w that."
After the 2010 elections, it took nine months of wrangling among the nation's political rivals for a government to be formed. There is also concern among observers that regional powers — namely Iran and Saudi Arabia — may attempt to interfere in the process and, as a result, incite further tensions between Shia and Sunni parties. London-based Iraqi journalist Mina Al-Oraibi argues on Twitter that "Since 2010 elex, no ministers of interior or defense appointed in Iraq-Maliki in charge of security & failed, yet running on 'security' pledges."
Rival Shiite Muslim groups, including the Sadrist Movement of cleric Muqtada al-Sadr and the Islamic Supreme Council of Iraq of Ammar al-Hakim also accuse al-Maliki of monopolizing power. Even Iran, once viewed as an unwavering supporter of al-Maliki, has expressed skepticism in recent months that he is strong enough to crush the Sunni insurgency.
Image Credit: AP. Cleric Muqtada al-Sadr votes in Najaf, a city south of Baghdad.
Al-Maliki has blamed the Gulf states including Saudi Arabia (a U.S. ally) for what he describes as their support of Sunni insurgents. Many Sunnis civilians say they are stifled under the al-Maliki government, pointing to the violent clampdown of protests and the arrest of Sunni leaders.
Whether al-Maliki or one of his rivals, the person who assumes leadership of Iraq will be responsible for seeing to it that violence doesn't escalate and that al-Qaida and other militant groups do not have a sanctuary for planning and carrying out operations.
"Fear is what is making him win elections," said Al Aazawy, who later admitted that there is no better alternative than al-Maliki to lead Iraq. "Keeping al-Maliki means the survival of Iraq."
Extreme violence prevented would-be voters from casting ballots in places like the Anbar Province.
Image Credit: AP. Gunmen in Fallujah, Iraq.
The Sunni-dominated Anbar Province in western Iraq has seen tremendous violence since the end of last year — the worst since the province's brutal violence between 2006 and 2008. 
Voting did not take place in parts of the Anbar Province, amid the growing insurgency that has escalated into a battle for control of the provincial capital Ramadi and nearby Fallujah. Omar Al-Alawsy said his Anbar community turned out in large numbers to cast their ballots. "We are so tired of the situation here," he said. "Every day there is fighting. We voted because we hope to make this stop."
Anbar province borders Syria, and in recent months, fighters from the al-Qaida-affiliated group Islamic State of Iraq and the Levant in Syria have crossed into Iraq and helped fuel the insurgency there. Just think of the number of countries that border both Iraq and Syria: Turkey, Lebanon, Israel, Jordan, Saudi Arabia, Kuwait, Iran.
The Persian Gulf is also home to a majority of the world's oil reserves and any spike in violence has the potential to send oil, gas and stock prices soaring.
There's promise for increased cooperation between Iraq and Iran.
Image Credit: AP. Iraqi foreign minister Hoshyar Zebari (right) meets with Mohammad Javed Zarif, his Iranian counterpart.
It goes without saying that the fall of Saddam Hussein probably gave Iran a leg up with its a Shia-dominated neighbor, which has always held the potential for wealth and influence in the Arab world. While that relationship has hit many bumps in the road since the U.S. invasion, and the Iranian government has grown increasingly wary of al-Maliki's potential to further boost that relationship, the neighboring countries have taken several measures to enhance cooperation.
Earlier this year, Tehran signed a $195 million arms deal with Baghdad. Iranian and Iraqi defense officials also signed eight agreements through which Iran will sell Baghdad arms, military communications equipment, ammunition for tanks artillery, mortars and ammunition for American-made M-12 assault rifles and other weapons, according to Reuters.
Iraq's humanitarian crisis continues to worsen, indicating immediate action is necessary to fix it. 
Image Credit: AP. A woman who fled Fallujah.
At least 380,000 people have fled their homes in Anbar. In the last month, more than 18,000 have sought refuge in Tikrit, the capital of neighboring Salah al-Din Province, Medicine Sans Frontières said this week. This exacerbates the number of displaced persons inside Iraq, with more than 1.1 million Iraqis already unable to return to areas wracked by violence between 2006 and 2008.
Some 7,800 people, mostly civilians, were killed in 2013 — the highest death toll since 2008 — according to the UN.
While Iraq is a divided country – many want the same thing: stability.
About 9,000 candidates are vying for 328 seats in the Parliament — but almost everyone in Iraq is vying for stability. Years of bloodshed and worsening sectarian strife have left civilians more vulnerable than ever, with many forced to leave their homes in areas where fighting is at its worst. It is just exacerbating an already dire humanitarian crisis some 11 years after the United States first sought to topple Saddam Hussein and snatch his alleged nuclear arsenal.
Mohammed Jaber of Basra was 14 years old when U.S.-led forces topped Saddam. Now 25, he says he would have preferred it if Saddam stayed in power. "I understand things were not easy during that period," he concedes, "but at least you could find a job, and you could focus on other things in life besides just surviving."