What New Yorkers Don't Realize About Their Subway Musicians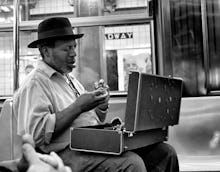 Every year, New York City's Metro Transit Authority holds tryouts at Grand Central Station in Midtown Manhattan to fill the 350 coveted spots in its Music Under New York program. Musicians fill the station, waiting for their five-minute audition in front of a panel of industry experts and MTA employees. The public can come too. After all, they'll constantly hear whichever musicians the city selects to perform at 30 of the busiest stations in New York.
It's a high honor. The subway is all connected, echoing tunnels and long hallways. Being a street musician isn't always glamorous, but playing the New York City subway is sort of like playing the world's biggest concert hall every day, for a potential audience of 4.5 million people. They know each other well, often sharing trade secrets (for instance, you have a captive audience for 39 blocks if you play the 5 train between 86th and 125th Street). But though they touch almost every New Yorker's life, their own lives are largely anonymous to the riders they entertain.
Image Credit: MTA Photos.
I first saw Nadine Simmons on a platform on a Tuesday afternoon, two years into her tenure as a highly competitive MUNY performer. A working vocalist and recording artist, she currently sings four days a week at one of the MTA's locations. On that afternoon, I found her belting out gospel and pop covers by a flower stand on the Seventh Avenue side of New York's labyrinthine Penn Station. Some commuters stop to listen. Some keep walking, heading off to their next destination. One man in particular, smitten by Simmons' broad smile and beautiful voice, gets in close to take a photo. Simmons, sensing an opportunity to connect, does the man one better.
"Come on, we'll take a selfie," she says, inviting him and the rest of his group in for a more intimate picture. After a few takes and some light chit-chat, they walk off, visibly pleased with the interaction. "Glad you stopped by," Simmons says, before going right into her next song.
Nadine Simmons performing in Penn Station (Image Credit: Alex Suskind)
It's been that way for a little while now. Though you don't have to be in MUNY if you want to play underground, performing in the subway or street wasn't always this easy. Back in 1889, the Brooklyn Aldermen passed an ordinance that forbid anyone "to beat any drum or instrument to attract people to a show." Luckily, that ordinance was vetoed five years later by Charles A. Schieren, the mayor of Brooklyn. A little less than a century on, the city established MUNY as a pilot program to highlight its vibrant and extensive history of performing arts and to give some order to the city's (literal and figurative) underground music scene. At the time, it sponsored three two-hour weekday performances at eight subway stations. Now the program boasts over 7,500 annual performances.
The veto also made room for those outside of the program to find a home in New York. Allyson Clare is a 29-year-old violist who moved to the city nine months ago after studying music in Boston. Despite lacking the coveted locations of those in the MUNY program, Clare still manages to pay for her rent primarily through street performances — impressive, considering the average monthly rent for a one-bedroom apartment in New York is more than $3,000. Then again, that doesn't mean she's successful every time she sets up her sheet music. Some days Clare brings in upwards of $70 an hour. On others, it's only $50 for four hours of work. She even has a different business strategy for the slower days: force more eye contact.
"It varies somewhat by season," says Clare. "April hasn't been as beauteous, which is why I am here at the end of the month. Maybe it's a tax thing? I have no idea. There are all sorts of factors. Some months are better than others, but by now it all just kind of evens out. I kind of just expect it to work."
But for a working musician, the subway is part day job and part advertising platform. Though Clare's subway performances aren't always lucrative, they have led to other gigs. "[People] will come by and be like, 'Hey, do you want to play for my wedding?'" she says. "I made a recording with some jazz musicians. I played with a gypsy punk band, I played with a metal band. I am just smorgasboarding it."
Jeff Kelly plays the Rolling Stones (Image Credit: Alex Suskind)
The city isn't fully cooperative, though. According to Section 1050.6 of the MTA's Rules of Conduct, "No activity is permitted which creates excessive noise or which emits noise that interferes with transit operations." The MTA does, however, permit "artistic performances, including the acceptance of donations." So in order for a non-MUNY subway musician not to get cited by police, they have to keep their volume under 85 decibels, a level equivalent to the volume of city traffic. They also have to do it without interfering "with transit operations." That middle ground can lead to loose interpretations of the rules from those less inclined to underground music.
"Sometimes the police deny the fact that what you're doing is legal," said a 44-year-old mandolin player in Union Square, who declined to give his name. "Over the years I've had some citations. Nothing terrible. No arrests. But I have had to dispute some. I have usually won. I only lost one of them. Now I generally pay them when they happen because I don't want to spend the time [at court]."
Like any citation, it's really up to police discretion. Late in my day roaming the underground, I was in Union Square watching a saxophone-drum duo known as Too Many Zooz. Though they didn't have an amplifier, they were definitely exceeding the 85-decibel maximum with their mix of funk and salsa music. Not that that bothered the onlookers: As soon as the band began playing, a giant semi-circle formed around them, where people were dancing, grooving and tapping their feet. A few yards back, a police officer looked on.
Too Many Zooz plays to a crowd in Union Square (Image Credit: Alex Suskind)
He appeared to be debating whether to break up the music or not, pacing back and forth between the group and a bench further down the end of the platform. Eventually, he made his way towards the music, situating himself behind a crowd of onlookers. The band didn't seem to notice him. When he threw his police cap on, I thought for sure he was going to put a stop to the joyful show. Though the band might have been breaking a rule, everyone there was having a good time and no one was in any immediate danger. Thankfully, after watching for a few seconds, the officer backed away and took his cap off. When I asked him about it later, he sheepishly dodged the question and directed me to the MTA's website for noise regulations. Forty-five minutes later, the band was still playing.
Thankfully, if you're under MUNY, like Nadine Simmons is, or play a quieter instrument, like Allyson Clare, you don't have to worry as much about cops. There are, however, other downsides to playing underground.
Being poor is the nature of being a musician at most levels. Even big bands struggle to pay the bills now. "Bands appear so much bigger than they really are now, because no one's buying records," said Ed Droste, a member of the rock band Grizzly Band, in a 2012 New York feature on today's difficulties of making money as a musician. "But they'll go to giant shows. … Obviously we're surviving. Some of us have health insurance, some of us don't, we basically all live in the same places, no one's renting private jets. Come to your own conclusions."
No matter what level you play at, whether on stage or subway platform, the life of a musician is a difficult one. But there's something unique about being a subway musician.
If you play Penn Station, you have an average audience of more than 27,000 people an hour. It takes a certain kind of community-instilled resilience to deal with thousands of commuting New Yorkers. So there's one great truth to playing the city's subway: It's like the subway itself, connected. Spread out across the underground, the one thing subway musicians truly have in common is each other.
"Yeah, there's quite a few of us," Clare says. "We will have busking shop talk conversations sometimes. It takes some guts, I guess. So those of us who've been doing it for a while, we kind of know all the same rules, so we just kind of nod at each other. 'Oh yeah, you're at it again? So am I.'"