May Day Images From Around the World Highlight the Defining Battle of Our Generation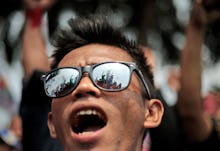 The news: This could go down as the most painfully ironic May Day in recent history.
Hours before demonstrators started marching in solidarity with working people worldwide, Senate Republicans voted almost unanimously to block President Obama's bid to increase the federal minimum wage from $7.25 to $10.10 per hour. The president blasted them in a speech shortly after:
"Change is happening, whether Republicans like it or not," he said. "And my message to the American people is this: Do not get discouraged by a vote like the one we saw this morning. Get fired up, get organized, make your voices heard."
But discouragement seems inevitable. The bid would have helped thousands of Americans recover from damage wrought by a devastating economic crisis. It also might have remedied the steadily declining share of nationwide income that actually goes to laborers.
Image Credit: Vox
Yet against our collective will, the pattern stands to persist. And to squeeze more lemon juice on the open wound of what might've been, many argue that a minimum wage hike was key to liberation from a "stalled economy."
"If people don't have any money," writes Matthew Yglesias, "there's no reason for companies to invest in making stuff to sell to them." Not to mention they can't cover their basic necessities, like food, shelter and transportation.
It's a depressing state of affairs. But like Michael Jackson said, "[We] are not alone." Many fail to recognize is that Americans are part of a global struggle on this front: No matter where you turn this International Workers' Day, the demands of working people bear striking similarities.
Cambodia:
May Day Cambodia/Image Credit: AP
From Bangkok to Phnom Penh, Washington, D.C., to Jakarta, protesters are calling for higher minimum wages and an end to stagnant incomes. Many marches are tied to broader cultural events, and some have been met with violent repression. In Istanbul, for instance, the Turkish government is brutally enforcing its ban on people rallying in Taksim Square, using water cannons and tear gas to impose its will. Security forces have also been beating demonstrators in Phnom Penh, injuring at least five people.
Turkey:
Image Credit: AP
Image Credit: AP
Other demonstrations have been more peaceful.
Indonesia:
Image Credit: AP
Greece:
Image Credit: AP
Britain:
Image Credit: AP
Cuba:
Image Credit: AP
Bolivia:
Image Credit: AP
Los Angeles:
Image Credit: AP
Yet even when faced with violence, the will of working people has never been fully repressed. The date chosen to commemorate May Day itself memorializes an 1886 clash between Chicago police and laborers demanding an eight-hour workday. Guess what happened not long after that?
So we should view this as an encouraging sign. Throughout history, people working low-wage jobs have fought and clawed their way toward the ever-elusive specter of fair hours and compensation — and in many cases, they've won. There's still a long way to go: Growing income inequality is something we all need to worry about, and the financial crisis of 2008 placed a major damper on progress toward an equitable society. But if history is any indicator, the will of working people will remain indomitable. Victory will be theirs — it's just a matter of time.
This is an especially important message for millennials. CNN Money reports that despite being "better educated" than previous generations, today's young people find themselves "shut out" of opportunities to earn middle class wages, "with no road map of how to get there." The number of college graduates working for minimum wage has doubled since 2007, while 58% of jobs created during the economic "recovery" have been low-wage positions.
Image Credit: AP
As such, the battle being commemorated on International Workers Day is one of the defining struggles of our generation. Despite what appear to be an endless string of setbacks and defeats, we desperately need to win this fight to secure an equitable future. It's a fight we share with people around the world.
This May Day is the perfect opportunity to commemorate that and think about the opportunities it provides.